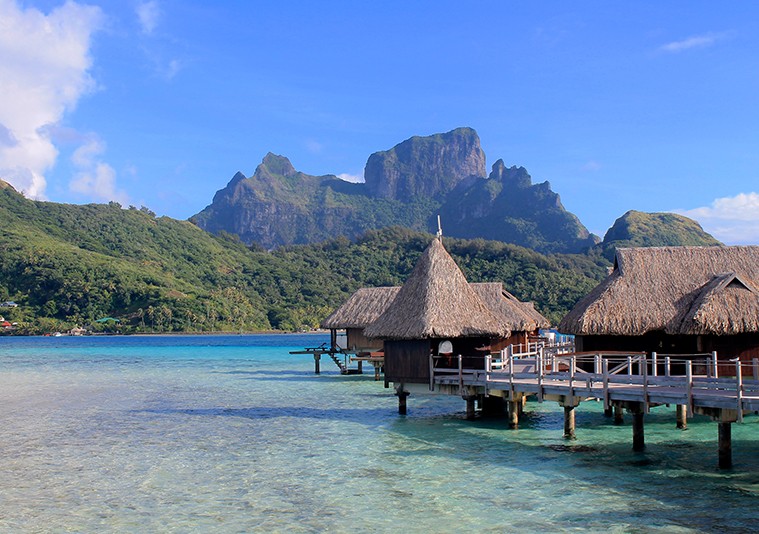 The unmistakable profile of Mount Otemanu presides over the Bora Bora lagoon. (Tim Stewart)
French Polynesia
If you took the American-ness out of Hawaii and replaced it with French-ness, added a dash of exotic class, then took away about a billion tourists, you'd have French Polynesia.
When you can wake up, mainline a perfect espresso, pop a bonbon into your mouth left over from the night before, then plunge into a crystal-clear lagoon at your doorstep while you wait for breakfast to arrive via canoe, you know you're in for a red-letter day. This is the essence of French Polynesia, a swath of 118 islands spread out over 2,000 kilometres in the southern Pacific Ocean.
Go all out. Over-water bungalows of the major hotel chains are worth the splurge, and provide the perfect spot to keep an eye on the beach, the lagoon, the ocean and your book—all at the same time.
Start on Moorea. A 20-minute ferry ride from Tahiti, Moorea is a lush and unhurried nirvana encircled by a small lagoon. Make time to walk the hiking trails, climb island peaks, discover secret rivers and ancient maraes or stone religious shrines, and trip to Belvedere Lookout for a stunning view of Secret Mountain, with Cook's Bay and Opunohu Bay stretched out before you.
Island hop. Little 20- and 30-minute flights get you from place to place relatively easy, most for less than $100 one way. You get the complete Polynesian picture this way, and will soon start recognizing fellow passengers—especially the surfers. Yum.
Get real. On the island of Huahine, vacationers get a modern-day Tahitian island experience, a chance to see how real people live. A bit of an artist enclave, Huahine is also the site where archaeologists have found the oldest carbon-dated remains of pre-Polynesian civilizations, pre-dating Hawaii.
Get wet. Go snorkeling and swimming with wild stingrays, black point sharks and lemon sharks while cruising the lagoons.
Binge at Bora Bora. A bigger lagoon here makes for more hotel choices to be sure, but try to fit in a night or two at the Four Seasons. On top of having the coolest private boat in the lagoon, the hotel is as teeming with opulence as the water is with tropical fish. The Sunset Bar has the absolute best view. For a more intimate and perhaps more rustic experience, check out the Sofitel Private Island.
When you go. Air Tahiti Nui flies to the capital city Papeete from Los Angeles up to five times a week in only eight hours. All inter-island domestic flights are operated by the very similarly named Air Tahiti, which flies to 46 islands in the five archipelagos, as well as to Rarotonga in the Cook Islands. Peak season is from March to October, with May and June being the driest. Avoid the rainy season, from November to January, when it can rain for three weeks straight.
TahitiTourism.com
AirTahitiNui.com
AirTahiti.com