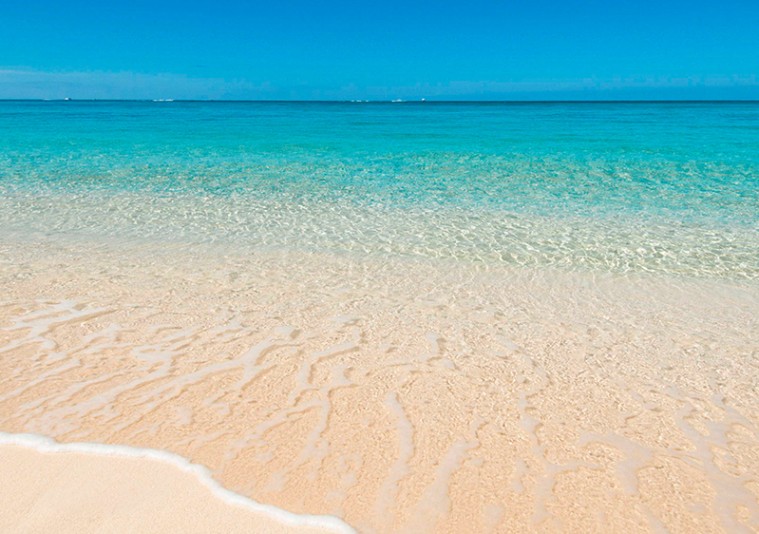 Seven Mile Beach on Grand Cayman's western end is one of the best in the Caribbean.
Cayman Islands
Cayman Islands is a trio of islands in the western Caribbean noted primarily for its plethora of the rich and famous. Think giant seaside homes worth millions of dollars—and how come? With more than 600 banks, Grand Cayman is the fifth-largest banking centre in the world after London, Tokyo, New York and Hong Kong. (Mostly hedge funds.)
Grand Cayman is therefore the prime spot for luxury beach resorts and café society, but there is plenty of room for the rest of us who crave maybe a mix of upmarket and down, so you can save and splurge without the major cashectomy—including the calm and peaceful other two islands: Cayman Brac is a deep-sea fishing launch point and Little Cayman is known for its unspoiled wildlife habitats.
Make camp. The famous Seven Mile Beach is home to the Kimpton Seafire Resort + Spa, named after the island sunset. The Instagram-worthy open-air design, sumptuous rooms, gorgeous views and ample pools keep it on all the Top 10 lists. It also happens to be at the forefront of the island's dining scene in a town well-noted for its amazing food.
Play in the sand. The famous Seven Mile Beach where all the resorts are isn't the only game in town. Governor's Beach is great for a family snorkel, East End Beach is a bit of a local secret, sunrise at tiny Spotts Beach is sublime for a quiet moment, and Point of Sand is a secluded paradise.
Bring a hollow leg. The annual Cayman Cookout is an international culinary event hosted by chef Eric Ripert and anchored to the Ritz-Carlton Grand Cayman. It brings together incredible chefs, wine and spirit experts and culinary influencers for a few days of exclusive and interactive cooking demos and tastings, with massive dinners and fun local tours.
Savour more flavour. This is the island of the Scotch Bonnet chili pepper! One of the hottest there is. There are many wonderful hot sauces and stews here. But if your tastes are more mild there is nothing more delicate than the wahoo white fish, wonderful as a crudo or rubbed with lime and pepper, and grilled. The local conch is a sweet gastropod, a true delicacy, eaten raw or cooked. And when they are in season, the Cayman green mangoes are beyond extraordinary.
Snorkel a ship. The USS Kittiwake was a submarine rescue ship launched in 1945, decommissioned in 1994, bought by the Cayman Islands in 2008 and scuttled off Seven Mile Beach in 2011. Visiting snorkellers get an eyeful thanks to crystal clear waters and a 35-foot depth at her shallowest, deeper than she originally sat thanks to Tropical Storm Nate in 2017. But divers can reach her lowest depth of 85 feet and venture inside: This was the first ship I ever swam through as a diver, gliding over counters in the mess hall and waving at myself in the bathroom mirrors. Still talking about it.
Go West. West Bay is home to two checklist tourist attractions: The Cayman Motor Museum is a privately owned, 10,000-square-foot showroom filled with exotic and classic cars and motorcycles. And the Cayman Turtle Centre is an education hour or two learning about sea turtle conservation, and the centre's the release program and online tracking initiatives.
Spot the celebrity. Caymans keep mum about the celebrities but not me. Taylor Swift, Richard Branson, John Legend, Alicia Keys, Arnold Schwarzenegger, Cameron Dias, John Travolta, Dwayne Johnson, Al Pacino, Tiger Woods, Oprah, you get the picture. Apparently Powerhouse Gym is the place to work out. Bring your autograph book if they even exist anymore.