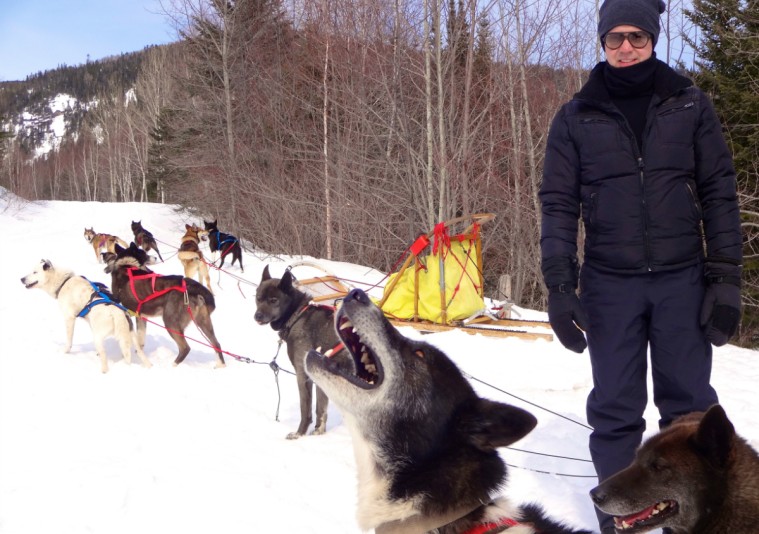 Going to the dogs with André Heller at Descente Malbaie. (Tim Stewart)
Charlevoix
Winter in Charlevoix is pure Canadiana—all cozy firesides, dogsledding, skiing, art galleries, hot apple cider, amazing local cuisine, you get the picture.
When life hands Canadians winter, we make it fun. No one knows this better than Charlevoix, which has been doing this for more than 200 years. Tucked up along the St. Lawrence, north east of Quebec City, this resort area still remains a bit of a hidden gem—almost 80 per cent of tourists to Charlevoix come from within Quebec itself. And for good reason: relaxed vibe, friendly locals, exceptional food, great skiing and picture-postcard scenery.
Take le train. Train de Charlevoix is a scenic rail line that runs from Montmorency Falls on the outskirts of Quebec City all the way to La Malbaie. You're hopping off first, though, at Baie-Saint-Paul.
Hit the spa. Check into Le Germain Charlevoix to take full advantage of the Spa Nordique's treatments, thermal spa, Finnish sauna, steam bath, snow fountain and indoor-outdoor pools. Paying creative homage to its former life as a series of farm buildings in connection with a nunnery, the hotel also houses one of the town's hot spots, Restaurant Les Labours, and there's a skating rink in the middle of the courtyard. Be prepared for impromptu games of shinny.
Hit the slopes. Charlevoix's biggest draw in the winter is Le Massif ski resort just outside Baie-Saint-Paul, which has come a long way since the days when busses drove skiers from the river's edge back up to the top of the hill, where the main lodge is situated. The hill has an 800-metre drop and lots of (natural) snow, both of which make for a long, smooth ride.
Wander the town. Baie-Saint-Paul owes its picturesque backdrop to a 56-kilometre-wide crater, the result of a meteorite impact a few hundred million years ago. Due to this anomaly, the whole municipality has been designated a UNESCO World Biosphere Reserve. A stroll down Saint-Jean-Baptiste will net you a chocolate factory, a microbrewery, a cider shop and an ice cream parlour—all will tantalize, as will the donkey-milk soap shop. Be sure to swing by the Musée d'art contemporain de Baie-Saint-Paul.
Wander the other town. Charlevoix's other main centre is 40 minutes up the road. La Malbaie, so named because of the shallowness of the river at that point, which has beached more than a few ships. This wee town was once the playground of wealthy Americans in the summer (including President Taft). The community is immensely proud of the fact that it has been teaching tourists how to fish since the early 1800s—long before Canada was a country.
Bunk down. The Fairmont Le Manoir Richelieu, originally built in 1899, can kit you out for cross-country skiing, whale-watching, snowmobiling or stargazing—it has it's own astronomy classes. The spa also maintains an outdoor, year-round pool.
WHERE TO STAY: IN QUEBEC CITY
WHERE TO STAY: HÔTEL DE GLACE
Go gourmand. Tantalizing food will tempt you at every turn. The gorgeous little Auberge l'Estampilles near Baie-Saint-Paul has just 11 rooms and a bijoux of a restaurant spotlighting regional delights. Laiterie Charlevoix in Baie-Saint-Paul not only has amazing cheddar, they also sell delicacies from across the region. Don't skip the museum upstairs. Have the duck at Auberge des 3 Canards in La Malbaie. What else?
Go to the dogs. André Heller at Descente Malbaie will have you harnessing and driving your own team of dogs in no time flat, through the heart of the hinterland of Charlevoix, in the National Park of the Hautes-Gorges-de-la-Rivière-Malbaie. This husky pack likes nothing better than to show people around its backyard, but they only take commands in French, so leave the "mush" at home.
LEMASSIF.COM
TOURISME-CHARLEVOIX.COM
GERMAINHOTELS.COM