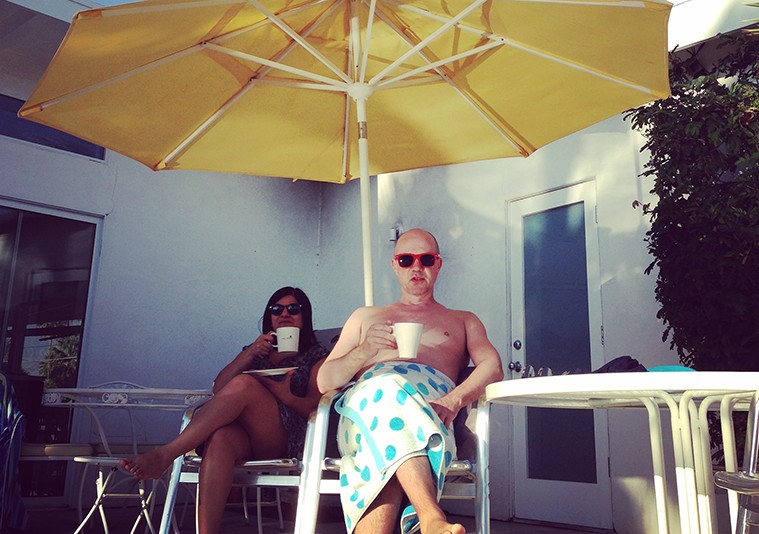 Sit by the pool, make fabulous meals, take enormous hikes, visit Sinatra's house. (Tim Stewart)
Palm Springs
Nabbing a cool, mid-century modern bungalow in Palm Springs for a week by the pool could well be one of your better ideas.
It certainly was one of mine. The Palm Springs resort community of 45,000 people 175 kilometres east of Los Angeles is a great spot to relax and explore, gold and play tennis, and generally soak up the Hollywood playground vibe. If it was good enough for Frank Sinatra, it's good enough for you. The more friends you can arm-twist to come with you, the bigger your pool will be.
Sing along. Both the Coachella and Stagecoach music festivals are big draws, normally in early spring. Don't get them mixed up or you will be disappointed. The International Short Film Festival—Shortfest—is in June. There are numerous film festivals throughout the year.
Take the tram. The Aerial Tramway is the world's largest rotating tram car and heads up the Chino Canyon cliffs into the arms of the Mount San Jacinto State Park and Wilderness Area. Here, you trek along 80 kilometres of trails at about 2600 metres. You can even camp overnight.
Go Modern. Palm Springs has the biggest concentration of Mid-Century Modern homes in the world, inspiring an aesthetic movement now referred to as Desert Modernism. There are a number of trust groups and heritage societies dedicated to preserving the sites, and, of course, a number of guided tours. You can even stay in a retro gem: Many small hotels and vacation rentals are Modern classics, you just have to dig.
Go Mexican. Of all the eateries, fancy and not fancy, the absolute must-do is one of the Las Casuelas restaurants—opt for Las Casuelas Terraza over the original location if the weather is nice. Pick a day when day-drinking just feels right and load up on giant margaritas followed by giant plates of Mexican comfort food at these family-run fun, fun places. Four generations of family recipes can't be wrong, the history dating back to copper mine times.
Go Hollywood. Take a celebrity tour of the star's homes through the Old Movie Colony and soak up the cheesy goodness of Hollywood's Playground. You hit famous neighbourhoods, secret little spots with a good story attached, and the homes of Sinatra of course, Elizabeth Taylor, Sonny and Cher, Bob Hope, Liberace, Elvis Presley, Dinah Shore and more.
Shake it. Speaking of Dinah, the Dinah Shore Weekend, a.k.a. The Dinah, is the biggest lesbian party in the world, with concerts, pool parties, club events and celebrity special guests for a weekend in late September. Palm Springs is also a big stop for the White Party in late October for the LGBTQ and fans.