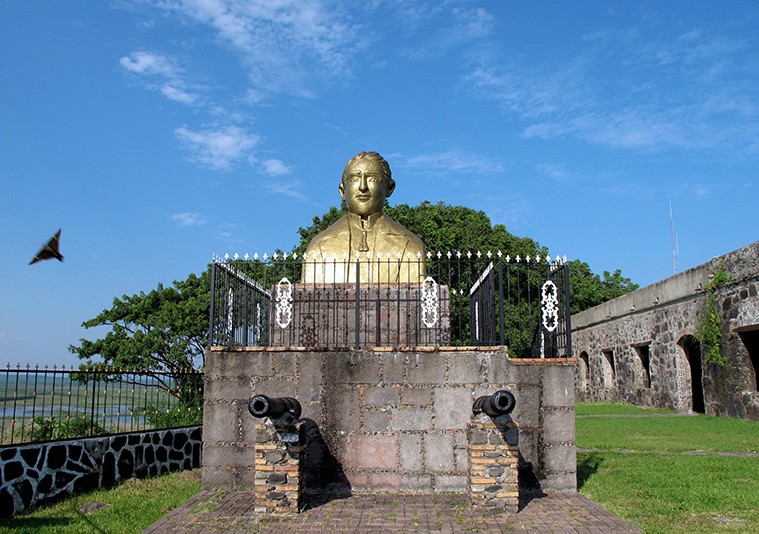 Priest don José María Mercado was an insurgent who fought to defend the freedoms of the Mexicans. (Doug Wallace)
Mexico: San Blas
Once a prominent Pacific port and shipyard, the small fishing town of San Blas (population 10,000) between Mazatlán and Puerto Vallarta is home to giant stretches of beach, winding estuaries and mangrove-laden wildlife reserves.
San Blas history dates back to the late 17th century, but the town was founded much earlier than that, in 1530. While not exactly a day trip from either of these cities, it is a worthy add-on, despite being a relatively poor area, and particularly if you're venturing to the beach town of Sayulita, from which is a mere two hours.
Dig old stuff. Lots of it! Trek through the Contaduría, a fort on San Basilio Hill, the spot for the accountants way back in 1770 when the hacienda was in full colonial swing. A few steps away are the ruins of the Nuetra Señora del Rosario Temple dating from the same time. A giant bust of priest don José María Mercado stands watch over the scene up there.
Look at the birdie. San Blas is also one of the most important natural bird shelters in the Western Hemisphere. In La Tovara National Park, you can find more than 300 different species of birds—pelicans, terns, egrets, blue heron, ocelots, the works—not to mention quite a few crocodiles.
Cruise. The tropical marsh that includes the El Pozo estuary, the La Tovara National Park, and the San Cristóbal River makes for a fascinating afternoon or two. A boat tour through the watery maze of vegetation and wildlife will remind you of every prison escape movie ever made. Turtles and herons and termites and snakes—this is every kid's dreamland. You'll also come across a movie set of floating wooden homes, replicas of those occupied by some of the first settlers here.
Cuddle the crocs. No, you can't do that. The crocodile sanctuary Cocodrilario Kiekari down the river rounds out the critter list.
Catch a wave. The fine, golden sand of El Borrego beach stretches for three kilometres and is an optimal spot for surfing—or if you're me, watching others surf. From here, hop on a boat to Isla del Rey for a little quiet me-time on the sand. The beaches are also the best places to savour the traditional seafood dishes served up in the wee thatched huts.
Savour the flavour. Speaking of dishes, you are staying at the Hotel Garza Canela, home to El Delfin Restaurant, headquarters of celebrated Mexican food ambassador, chef Betty Vázquez, the Riviera Nayarit region's unsung hero of the regional cuisine. Before an incredible meal, I had a tequila with a lime and a sangrita chaser—a mix of orange, onion, lime and tomato juices. Try it at home.
RIVIERANAYARIT.COM
VISITMEXICO.COM