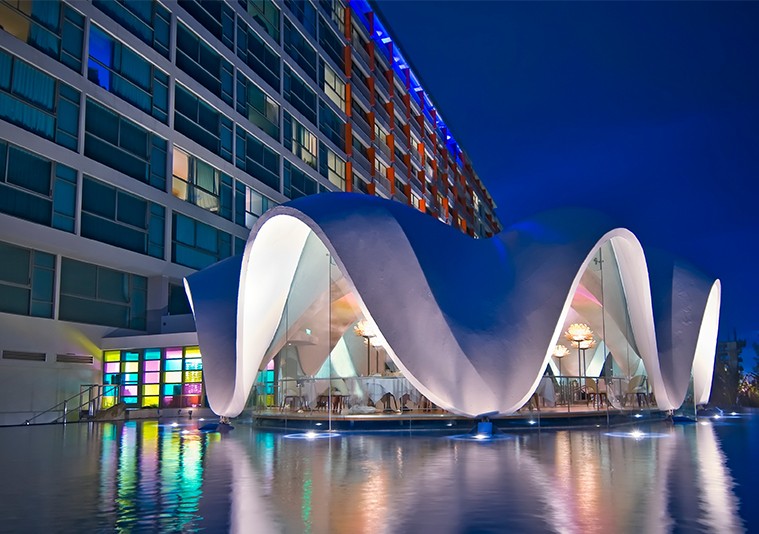 The clamshell-shaped Perla event space at La Concha resort is a waterfront landmark.
Puerto Rico: San Juan
Drinks with Rickie Martin and Orlando Cruz? Sign me up! Wouldn't that be a dream? I swear I like this town even more since Rickie rescued it from its own government that time. And double respect to Puerto Rico for surviving the neglect it weathered after Hurricane Maria.
Beautiful beaches, great food, rich history, secluded places to escape to, an actual café society and amazing SCUBA diving—San Juan is the perfect getaway—even an extended long weekend.
Set up camp. La Concha is a tropical, modern, architectural masterpiece with well-executed contemporary décor, a fabulous clamshell-shaped restaurant, and a location just a few steps from Condado's gay beach. Everyone who is anyone will eventually turn up at the lobby bar. Entering the lobby at Hotel Casablanca is like stepping into an art gallery. Very old and right in Old San Juan, so you can stumble home after dinner. Ditto El Convento Hotel, a restored former convent and a member of the Small Luxury Hotels of the World. And the Fairmont El San Juan is a classic overlooking two miles of beach in the Isla Verde Beach district, a super-nice neighbourhood just two miles from the airport. It sports four pools, 15 bars, the island's top nightclub, Brava.
See the sights. Old San Juan makes for plenty of roaming, so carve out an afternoon of exploring it. A few hours at the forts—Fort El Morro and Fort San Crisóbal—will yield a small peek at the town's history. Founded by the Spanish in 1521, this thick-walled museum is a UNESCO World Heritage Site, and well worth a visit.
Hit the beach. Condado Beach is my favourite, at the foot of Calle Vendig, where there are two terrific café bars to prop up, morning, noon and night. Unlike a more secluded resort beach where you see the same tourists getting redder and redder every day and the same tanned torsos jogging every morning, the people-watching here varies by the minute, with the San Juan population mixing right in. Ocean Park Beach is just a bit further east, attracting a younger crowd out for the rec activities (volleyball, paddleball, etc.) and a louder good time. Windsurfers head farther east to Punta Las Marias.
Chow down. The cuisine in San Juan is largely geared to tourists, particularly the cruise-ship crowd which docks in the Old Town. This is a good thing, because you won't tire of the fresh seafood platters, salads and the infamous mofongo: fried green plantains mashed with garlic and olive oil, and served with crab, shrimp, chicken, beef, vegetables and broth, or any combination of the above. When you come across fried chicken on any menu, order it. And if your idea of a good time is enjoying a nice basket of ribs and a bit of local colour at the same time, the crowd at Mango's at Ocean Park will fit this bill in spades.
Party down. Ask your hotel doormen for the newest spot to hit for drinks after dinner (which is late, by the way). Tiny bars pop up and the latest and most fun hole in the wall won't be obvious during the daytime.
Go rogue. For a relaxing overnight or two, ferry it to the pristine island of Vieques, just off the eastern shore. There's a W Hotel, so you will be in good hands. The island is also a major dive centre. There's also Mona Island, off the west coast, a designated ecological reserve offering crazy different kinds of wildlife and cool cave exploring.
Amuse yourself. El Distrito is an immersive, multisensory, audio-visual experience combining art, music, technology and hospitality. Visitors can eat and drink, but also try out the urban zipline, the first day/night disco, eight movie theatres and the dazzling plaza displaying a digital scenery system comprising more than 4,000 square metres of LED screens.