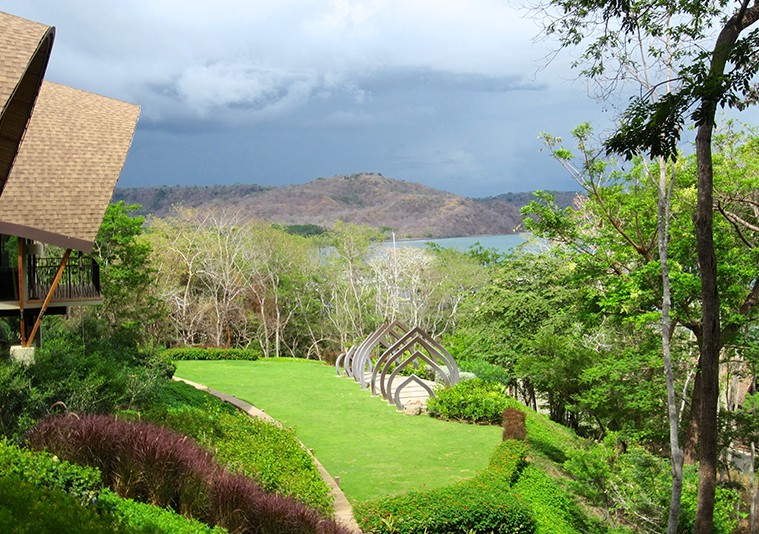 Costa Rica Pura Vida
The province of Guanacaste in Costa Rica offers both outdoor adventure and inner peace.
Andaz Peninsula Papagayo
GUANACASTE
DOUG WALLACE
Beach, mountains, canyons, volcanos, waterfalls, wetlands, plains, parks, rain forests– the Guanacaste province of Costa Rica has hit the all-terrain jackpot. (Scroll down for slideshow.)
This variety, coupled with great weather practically year-round – and especially during high season from November to April – leaves visitors revelling in the spirit of pura vida. Literally "pure life," this iconic and health-oriented philosophy encourages an appreciation of life – body and soul. Costa Rica takes this to heart.
The people here are also so completely conservation-conscious, the government has set its sights on the country being carbon-neutral by 2021. And with such a strong bio focus comes a great respect for the land, its preservation and the protection of its wildlife. Nowhere is that more evident than at Rancho Humo in the district of Nicoya.
This 1,000-acre working cattle ranch sits along the Tempisque River at the edge of Palo Verde National Park. While cattle remains the going concern, conservation is of equal importance since the area became a protected wetland, home to countless species of birds, including herons, hawks, storks, egrets and ducks (just visiting from Canada).
With the mist in the morning rolling up over the hills ringing the ranch land, migrating birds taking flight en masse, a scene that makes the rest of the world seem a million miles away. Witnessing dozens of grey egrets nesting on Birds Island is such a powerful, natural statement, it confirms that the grand scheme of things is indeed grand.
The ranch owners turned what was their private vacation home into a 10-room hotel this past summer, complete with deluxe Costa Rican cuisine, wetland tours, horseback riding and a function space for groups. Mountain hiking trails, ziplining, a spa and even a brewery are all in the works. This is one of those places where they actually encourage you to drink the water: It is one of the reasons given to explain why life expectancy in this region is among the highest in the world.
After all that fresh air – comes even more fresh air, this time with an air of refinement. Later in the week, a little pampering on the Papagayo Peninsula revealed even more of the pura vida philsophy, an iconic Costa Rican saying that encourages an appreciation of life, body and soul.
This is the Gold Coast, the most exclusive part of the country, famous for its posh resorts like the Andaz and Four Seasons, an Arnold Palmer-designed golf course, as well as the elegant homes of the rich and famous (Madonna has a house here). In fact, the new refurbishment of the Liberia airport was due in part to attract and cater to the influx of celebrities and millionaires – and now yacht-owners: the $15-million Papagayo Marina jutting out into Culebra Bay is the largest in the country.
Despite all the elegance, 80 per cent of Papagoya is protected land. The resorts go to great lengths to ensure a sustainable tourism experience. Driving through the forests, you can spot howler monkeys and white-faced capuchin monkeys, as well as inquisitive coatis who hail from the raccoon family. Distinctive orange-legged caracara birds of prey don't actually hunt, but instead wander the ditches looking for roadkill – pura vida of a different stripe to be sure.
A visit to Guanacaste wouldn't be complete without dipping your toe in the healing spa waters and mud baths produced by all the volcanic activity – and there is a lot of it: This area has seven active volcanos, all generating energy. The 9,000-year-old Rincon de la Vieja Volcano is attached to a major power plant, helping to generate steam for electricity for the entire country.
At nearby Rio Negro Hot Springs, bathers congregate in six thermal pools heated naturally by Rincon, then paint themselves – and each other – with volcanic mud. This is like a DIY body mask that you let dry, then wash off with a bit of splashing around in the cool river. It's a group spa activity with strangers, which makes it all the more fun.
Outdoor adventure is also a huge draw in this region, much of it hooked to popular working cattle ranch Hacienda Guachipelin, where visitors can spend a few days connecting with nature and getting some exercise: in the form of ziplining, rock-climbing, rappelling, river tubing, horseback riding – and all the pura vida you can handle.
– Doug Wallace (August 2015)
[metaslider id=713]