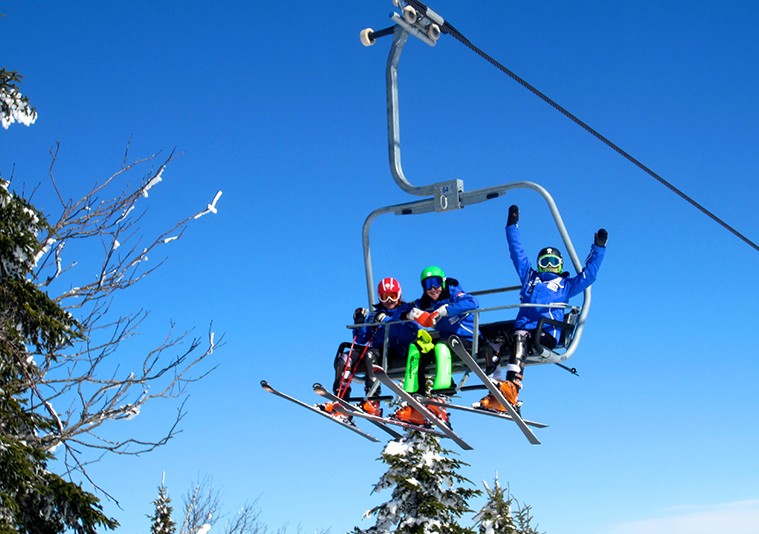 TIM STEWART
Ski Resort Report
Six of your best bets to ski, snowboard, aprés-drink, conference or celebrate.
Red Mountain Resort, Rossland, B.C.
Overview: Charming heritage town, really nice people, no lines, terrific skiing.
Selling point: The consistent and brilliant snow, top-rated because of the resort's location along the famous Powder Highway.
Meeting space: A new conference centre (120 people, theatre-style) is great for cozy and compact multi-day group retreats. A variety of on- and off-mountain lodges and chalets to choose from.
Skiing: 4,200 acres of fun. The resort recently added 1,000 acres of intermediate-level runs on Grey Mountain, an entirely new peak.
Getting there: A scenic 2.5-hour drive north of Spokane Airport. As well, Air Canada Jazz flies into Castlegar Municipal Airport from both Calgary and Vancouver.
Closing remarks: As their website says, "The only fluff we offer is our snow."
Website: RedResort.com
Le Massif de Charlevoix, Quebec
Overview: The perfect mix of meeting, mountain and après-ski, not to mention the heavenly (and homemade) Quebec cuisine.
Selling point: The gorgeous Le Germain, which is just a few minutes' drive from the ski hill, built on the site of what was once a nunnery and farm.
Meeting space: A flexible business area in the main hotel building can handle from 50 to 110 people, depending on the configuration.
Skiing: The lodge is at the top of the hill, with breathtaking views of the St. Lawrence River below. There's a 7.5 km sled track as well, the third longest in the world. (And not just for the kids.)
Getting there: Take the private train from Quebec City, which stops right at the lobby of the hotel.
Closing remarks: Pure Canadiana at its finest.
Website: LeMassif.com
Lake Louise, Alberta
Overview: Mountains, glaciers, lakes, forests, big steaks and the beautiful Fairmont Lake Louise in Banff National Park.
Selling point: Voted one of Canada's best ski resorts, and one of the world's top ski regions that doesn't require a car.
Meeting space: The Fairmont Lake Louise has 36,000 square feet of conference room—along with the Banff National Park for themed group exploring.
Skiing: One of the largest resorts in North America, with 4,200 acres of terrain across four mountain faces.
Getting there: Frequent two-hour transfers from Calgary International Airport are available and an efficient shuttle system takes over after that.
Closing remarks: This is old-school skiing at its finest.
Website: SkiLouise.com, Skibig3.com
Aspen Snowmass, Colorado
Overview: World-class service and reputation, glamorous, huge off-slope activity list, great powder.
Selling point: The variety of four mountains—Snowmass, Aspen Mountain, Aspen Highlands and Buttermilk—plus the giant-size scope of everything that goes with it, from dining to racing.
Meeting space: Choose from a variety of rooms, restaurants, decks and log cabins, such as Snowmass's new Elk Camp, accessible via a nine-minute gondola ride and holding up to 300 people.
Skiing: 11,111 feet, 42 lifts, 5,300 acres, one lift ticket.
Getting there: Aspen/Pitkin County Airport is six miles away, with direct flights to Denver, Chicago, Minneapolis and more.
Closing remarks: With snowcat rides, treasure hunts, picnics and moonlit dinners, your team will love it here.
Website: AspenSnowmass.com
Sugarloaf, Carrabassett Valley, Maine
Overview: Reliable snowfall, loads of space, a real variety of skill levels and terrain, plus a ton of things to keep you otherwise occupied.
Selling point: Never really gets crowded, with 154 trails that draw only about 350,000 skiers a year.
Meeting space: A very popular Maine conference centre. Nine salons can handle from 50 to 1,000 people.
Skiing: This is the largest ski resort in New England with the east's only above-the-tree line skiing. Even mix of easy, intermediate and black diamond runs.
Getting there: A four-hour drive from both Montreal and Quebec City, and a two-and-a-half-hour drive from Portland International Jetport.
Closing remarks: With just one base area, expect a real "village" feel.
Website: Sugarloaf.com
Arosa, Switzerland
Overview: A charming Alpine town in the mountains of Graubünden, cheese fondue like none other and more than 60 kilometres of runs.
Selling point: The Tschuggen Grand Hotel, where a private funicular whisks guests directly to the ski area, bypassing the masses starting at the bottom.
Meeting space: While the hotel has rooms for up 24 people boardroom-style, the nearby Arosa Sports and Congress Center has conference capacity for up to 400.
Skiing: A full-on skiing experience with sublime runs in a variety of levels. This is the Alps, after all.
Getting there: Take a scenic two-hour train ride from Zurich via Chur. Limousine and helicopter transfers available (naturally).
Closing remarks: An Alpine fairytale at 1,800 metres above sea level. And where else can you snowshoe to supper in the moonlight?
Website: Arosa Tourism