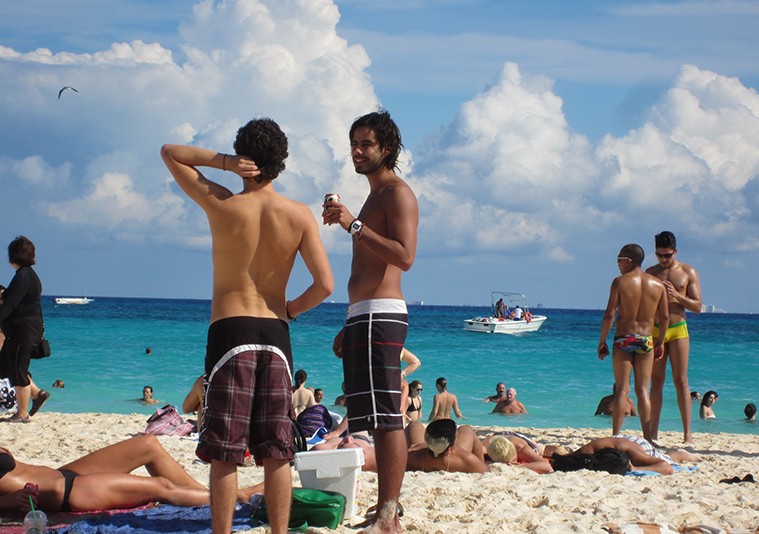 Playa del Carmen
Playa del Carmen is a little safe haven of heaven just waiting for you to dip your toes.
Which way to the beach?
PLAYA DEL CARMEN
TIM STEWART
The Mayan Riviera, running from Cancun to Tulum on the Caribbean side of Mexico, is best known for the multitude of resorts anchoring a string of 10 beach towns that dot the coast from Puerto Morelos to Punta Allen, all offering the best in sun and white, white sand.
And just 40 minutes south from Cancun, the city of Playa del Carmen (population 150,000) sits near the middle of the Riviera, opposite the island of Cozumel. Calm, cool and collected, the vibe is assuredly unhurried. And whether you're touring around, enjoying the water, hunting for souvenirs or just sitting in a chair, you'll find great people, sublime scenery and amazing food.
The Main Drag
Avenida Quinta (Fifth Avenue) is the main pedestrian strip, where you can get your shop on any time of the day or night. Hundreds of restaurants, bars and stores line this little main drag, catering to the daily influx of tourists popping off cruiseships for a poke around town. They dock near the south end of Fifth Avenue, making it more touristy; stick to the north end for some peace and quiet, plus a better quality of both shopping and dining.
Sweet Success
Business in this tiny town in general is booming—but not in a way that makes the bustle too much to bear. Though city planners are trying to maintain Playa's community charm, you should pay a visit before before the Hard Rock Café and Ruth's Chris move in. With more development on the horizon, the whole area is gearing up for even more of an influx of cash. High-end luxury retailers are already setting up shop, including Louis Vuitton, Hugo Boss and Christian Dior. Stores such as H&M, West Elm and Design Within Reach are said to be waiting in the wings.
Day Tripping
While sitting in a chair staring at the surf has it's benefits, block off a day to rent a car for a drive to Tulum, and a visit to both the 13th-century ruins and the surrounding beaches. The only Mayan city built on a coastline, the Tulum pre-hispanic ruins are ringed by a limestone wall seven metres thick, with the prominent castle sitting at the top of the limestone bluffs. This is a very popular tourist site, so try to get there as close to opening time as possible (8 a.m.) to avoid the throngs and take advantage of the best sunlight of the day for your photos.
SCUBA & Snorkelling
It was SCUBA diving that helped put Playa del Carmen on the map. It was just a sleepy little fishing town until a ferry service began from there to the island of Cozumel, one of the best places to dive in the world. The Great Mesoamerican Reef, which stretches 725 kilometres from Cancun south to the Bay Islands of Honduras, is the world's second largest reef. It marks the spot for surveying 150 varieties of reef fish and 100 species of coral. Freshwater sinkholes, called cenotes, make for a fun afternoon of crystal-clear diving or snorkelling in and around caves where the visibility can reach up to 125 metres year-round.
Sian Ka'an Biosphere Reserve
At 1.3 million acres, this UNESCO World Heritage Site is the largest protected area in the Mexican Caribbean, and includes the 23 archeological sites of the Maya civilization. Promoting ecosystem conservation and the sustainability of natural resources, the Centro Ecológico champions low-impact tourist activities, while educating visitors about the region at the same time. Pasttimes include flyfishing, kayaking, "ponga" boat tours and more, and you can even stay at the centre in deluxe, eco-friendly cabins.
Where to Stay
The Mayan Riviera is also becoming a fast favourite with those seeking a smaller, boutique-hotel experience. There's a growing luxury travel market as well, if you're the type that requires a staff or a yacht—or both. But if you're vacationing with another couple, a small group or your family, renting a condo is a perfect way to get some privacy and still be a short walk to both the beach and all the action on Fifth Avenue, including the terrific food. Private terraces, rooftop infinity pools, DIY blender drinks—cue the lounger!
How to Get to There
Make sure you do the math: It might be worth it to just book a flight and choose accommodation separately, rather than go the all-inclusive route. Flightcentre.ca, travelocity.ca, expedia.ca, tripadvisor.ca, cheapflights.ca and the like should be able to sort you out with tickets that suits your timeline and don't cost an arm and a leg. Shop around. Westjet, Air Canada and Sunwing all fly non-stop to Cancun, as does Air Transat. Once you're there, jump in one of the many cabs (yes, you have to barter) or take the bus, which is clean and comfortable, and will take you right to Fifth Avenue.