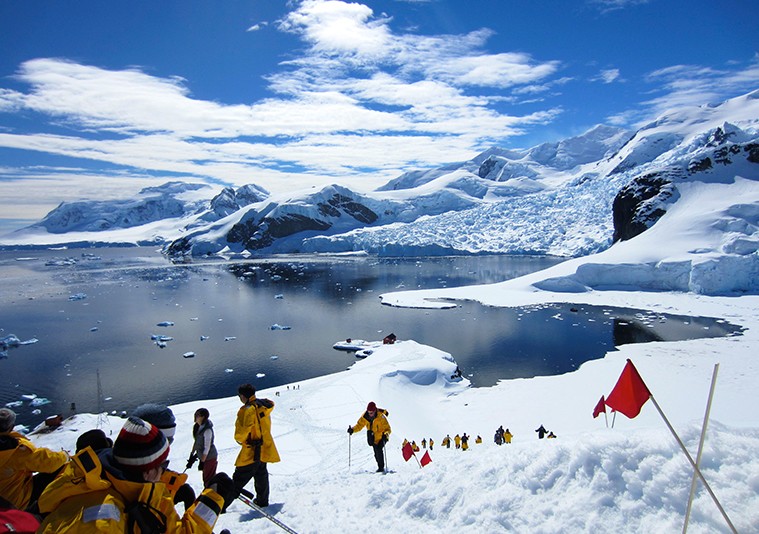 Taking a sunshiny hike at Almirante Brown Research Base, Paradise Harbour, Antarctica (Tim Stewart)
Antarctica
It really doesn't get more "bucket list" than the 7th Continent. You wouldn't think a place with permanent ice and snow would be much of a draw, but you'd be wrong.
Antarctica is all about zipping through icy bays on pontoon boats, hiking up glacial hills, kayaking or just plain penguin-watching. And a Quark Expeditions cruise through the islands of the Antarctic Peninsula is the perfect bucket-list adventure for anyone—thrill-seekers, nomads, romantics.
A quick Google search of "things to do in Antarctica" turns up "survive" as one of the main activities. The explorers that started arriving in the early 1800s can attest to that. The real activity, of course, is the journey itself—and this will likely be the furthest you will likely ever get from your house. Most cruise lines will have you landing in Ushuaia the day before you set sail. It bills itself as the City at the Bottom of the World—just a few kilometres from famous Tierra del Fuego National Park. (Weirdly, it used to be a prison colony.)
Pack your summer stuff. You will spend a few days in Buenos Aires first, where it will be full-on summer. You would be remiss not to take advantage of the weather, even for a day or two. 

Pack your ski stuff. While daytime temps in Antarctica's "summer," from December to February, hover around -2ºC, you'll find yourself outside a lot. As well, ship corridors in this part of the world generally aren't exactly toasty.
Get your awe on. Nothing can prepare you for the beauty of the giant walls of ice, frosty clouds rolling in low with full sun behind them, shimmering vistas across icy bays. Some of the ice we were looking at was thousands of years old.
ARCTIC ADVENTURE: IN GREENLAND
Spot the critters. Despite being a big deep freeze, the Antarctic archipelago has its fair share of wildlife. You will see different kinds of penguins (including the Gentoo, Adélie and Chinstrap) and seals (including the Weddell, Leopard and Crabeater) and soon be able to tell them all apart. All feed on krill, an algae-eating form of crustacean. Keep an eye out for whales. You will also see birds flying alongside the ship, nesting in rocky crags or feasting on krill at the shoreline: blue-eyed shags, Antarctic terns, brown skuas, snowy sheathbills and numerous varieties of petrels. On-board experts share their knowledge of ornithology, marine biology, zoology and geology with talks during downtimes.
Say yes to camping. At an overnight camping trip at Rongé Island, those brave enough not only survived but actually slept.
Take the plunge. On Deception Island, many brave souls stripped down and ran screaming into minus-one-degree water, part of a polar plunge. From my dry spot on the shore, this all looked very invigorating.
Don't forget anti-nausea medication. The first and last legs of the journey are the most wobbly: crossing the notorious Drake Passage. We noticed the hooks under our dining-room chairs that would allow us to attach ourselves to the floor if need be. I remember one particular dinner where servers spent more time replacing utensils that slipped off the tabletops than they did delivering plates.
Be patient. It takes about 100 hours of sailing (not including touring around the peninsula itself), 30 hours of flying and four hours of taxicabs to get to Antarctica and back—truly the trip of a lifetime.