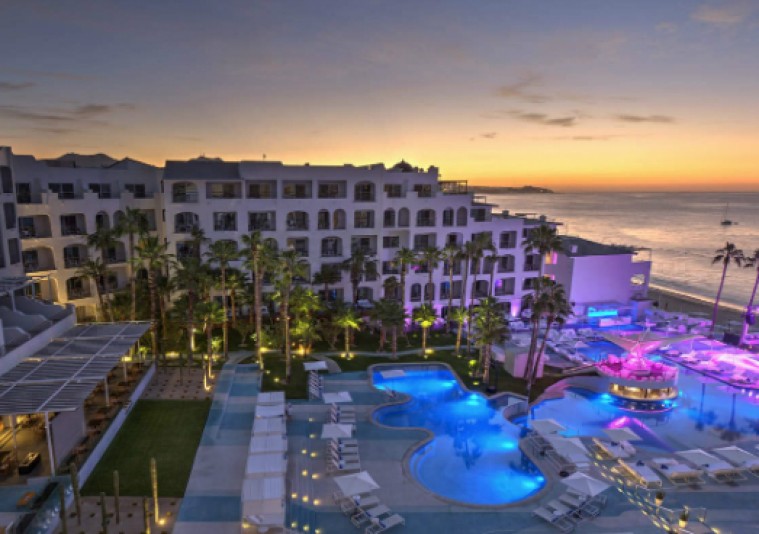 Sunset at ME Cabo by Meliá, Cabo San Lucas, Mexico
Mexico: Cabo San Lucas
It's hard to believe Cabo San Lucas was once just a sleepy fishing village. Along with sister city San José del Cabo, this tourist-friendly town walks the line between seaside desert escape and jet-setting hotspot.
Besides the requisite water sports, including great snorkelling and diving, Cabo San Lucas has plenty of outdoor adventure, plus a marina full of boats waiting to cast off for a secluded beach. This is also where more than a few Hollywood celebrities venture down to when they need a break from the limelight, so celebrity-spotting is also a regular pastime.
Don't be afraid to step outside the all-inclusive resort. Cabo is not only brimming with excellent restaurants and lounges, it's also a really safe place to wander around, even at night. Cap it all off with some of the most amazing sunsets you can imagine, and you've got a date made in paradise.
Visit the Arch. The tourist brochures weren't lying when they touted the famous arch, El Arco at Land's End, as a sight to remember. This is on the very tip of the Baja Peninsula where the Pacific Ocean meets the Gulf of California (a.k.a. the Sea of Cortez). Hop on a glass-bottom boat or your preferred watercraft and breeze on over to the end of the world. A popular spot for sea lions, this sheltered neck of the bay is where can sink your toes into the sand of Lover's Beach or hit the water for a snorkel. Take a quick walk to the Pacific side of the peninsula to watch the waves crash onto Divorce Beach—just don't dwell on it for too long.
Find calmer waters. While the ocean here is notorious for it's riptides, there are many bays and secluded strips with calmer waters perfect for snorkelling. The thing to do is find a touring outfit that specializes in zodiac-type inflatable watercraft that can zip along the water at 50 mph, stopping at various spots for a snorkel. Some of these beach-hopping adventures wind up on a floating restaurant near the marina for lunch.
Go for the whales. If you can work in your visit around March, that's the best time to marvel at the humpback whales that wander by Los Cabos in droves, often with calves in tow. You'll also see sea lions and pods of dolphins that seem to like all the attention they get. Pontoon craft can put you as close to the action as possible, with some tour boats offering hydrophone listening technology that lets you listen in on the whale song.
ME Cabo is gorgeous. Relax in comfort with a cool beach club vibe and really the only swimmable beach in town.