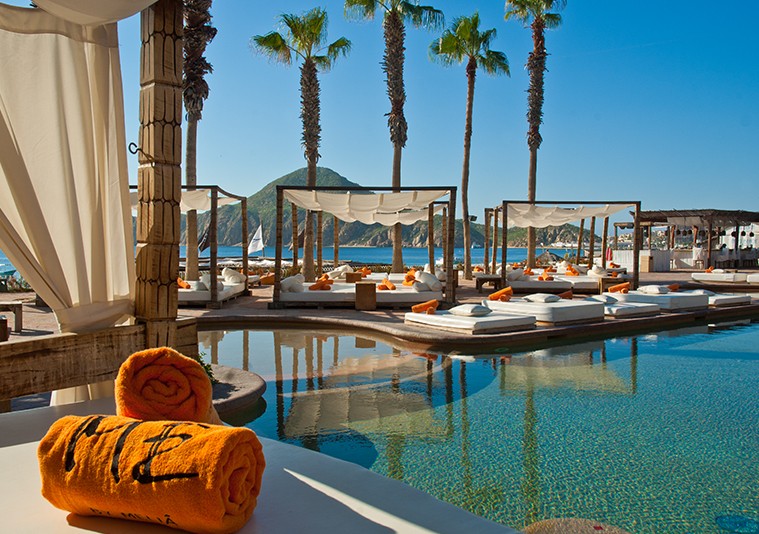 Cabo San Lucas
Cabo San Lucas has returned to its rustic-yet-regal glory since Hurricane Odile. Time for another visit.
ME Cabo by Meliá
CABO SAN LUCAS
CONTRIBUTED
It's hard to believe Cabo San Lucas was once just a sleepy fishing village.
Along with sister city San José del Cabo, this tourist-friendly town of 68,000 manages to walk the line between seaside desert escape and jet-setting hotspot, with a little something for vacationers of all stripes. And slowly, one resort at a time, the region is rebounding after 2014's Hurricane Odile, one grain of sand at a time.
Besides the requisite watersports, including great snorkeling and diving, there's plenty of outdoor adventure, plus a marina full of boats waiting to cast off for a secluded beach. This is also where more than a few Hollywood celebrities venture down to when they need a break from the limelight, so celebrity-spotting is also a regular pasttime.
Don't be afraid to step outside the all-inclusive resort world if that's within your budget; Cabo is not only brimming with excellent restaurants and lounges, it's also a really safe place to wander around, even at night. Cap it all off with some of the most amazing sunsets you can imagine, and you've got a date made in paradise.
First things first. While your Baja honeymoon is meant to be thrilling, it needs to start with a total wind-down. Push your reset buttons with some quality time poolside at the only Nikki Beach in Mexico at ME Cabo Resort & Spa (mebymelia.com). This 150-room gem at the centre of the action on Medano Beach will have you savouring the amazing food of executive chef Hector Espinosa Moreno—fresh salads, seafood ceviche and chicken satays in bamboo steamers—while you let attendants in white linen refresh you with mojitos. Sink into one of the signature white cabanas and relax.
The tourist brochures weren't lying when they touted the famous arch, El Arco at Land's End, as a sight to remember. This is on the very tip of the Baja Peninsula where the Pacific Ocean meets the Gulf of California (a.k.a. the Sea of Cortez). Hop on a glass-bottom boat or your preferred watercraft and breeze on over to the end of the world. A popular spot for sea lions, this sheltered neck of the bay is where can sink your toes into the sand of Lover's Beach or hit the water for a quick snorkel. Take a quick walk to the Pacific side of the peninsula to watch the waves crash onto Divorce Beach—just don't dwell on it for too long.
Back at home base, rejuvenate mind and body in the soothing energy at Yhi Spa. Ayurvedic treatments relax and repair, while your natural balance gets a full fine-tuning. Step outside yourself by venturing into a spiritual, mental and physical cleanse with the help of the Temazcal Ritual, an ancient Mayan sweat-lodge ceremony. Treat yourselves right; this is your honeymoon after all. The 90-minute massage at Yhi is to die for.
While the ocean here is notorious for it's riptides, there are many bays and secluded strips with calmer waters perfect for snorkeling. Ocean Riders (oceanriders.com.mx) runs a fleet of zodiac-type inflatable watercraft that can zip along the water at 50 mph, stopping at various spots for a quick snorkel. These beach hopping adventures wind up on a floating restaurant near the marina for lunch. Hold on to your hats!
If you can work in your honeymoon around March, that's the best time to marvel at the humpback whales that wander by Los Cabos in droves, often with calves in tow. You'll also see sea lions and pods of dolphins that seem to like all the attention they get. Pontoon craft can put you as close to the action as possible, with some tour boats offering hydrophone listening technology that lets you listen in on the whale song.
Finish off your romantic evening with a cocktail plus a spin on the dance floor at Passion at ME Cabo, even if you're not staying at the resort. This is where the jet-set hangs out—locals and tourists alike—to while the night away on the weekends. DJs from the international circuit will get you moving and keep you there.
[metaslider id=489]