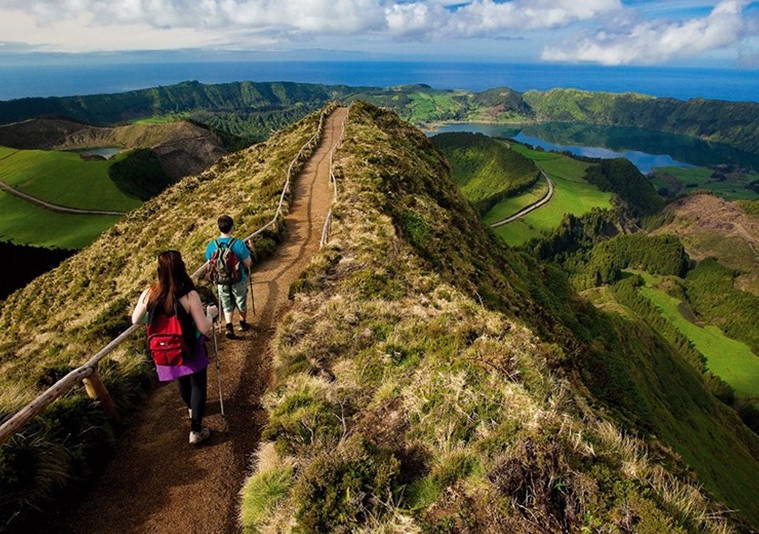 Hiking the ridge at Lagoa Do Fogo, Sao Miguel, Azores
Portugal: The Azores
While it used to be a stopover point on the way to Portugal proper, the nine islands that make up the archipelago of the Azores are a destination in their own right—and one of Europe's best-kept secrets.
Lush and green despite being made up of 1,766 volcanoes, The Azores is an autonomous region within the Portuguese state that has made great gains since the 1970s, when it was still a relatively low-key fishing outpost.
Island life in the Azores teems with opportunities for visitors to sail, dive, go deep-sea fishing and explore more than 120 geotourism sites—everything from volcanic caves and ravines to hot springs. This is one of the main reasons the destination is on so many ecotourism-friendly lists. Surfing, yachting, paragliding, too.
The whale-watching is phenomenal, as the Azores is one of the world's largest whale sanctuaries, boasting visits from 20 different kinds of whales. April to October is the time for this, depending on what kind of whales you want to see. (Like, any old whale would certainly do me.)
The best time to go is really August and September when the rain is down, and both the air and ocean temperatures are high. We realize these are busy months at home and at our cottages, but maybe it's time you broke with tradition just this once. These people could use a little tourism right now.