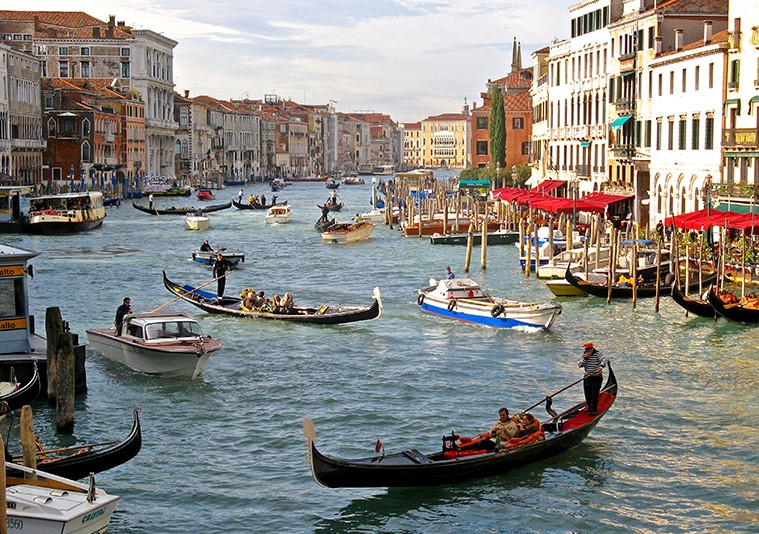 The Grand Canal,
ITALY
Venice
Is Venice sinking? Yes, and it has been since it was built, so don't worry about it.
The Grand Canal,
ITALY
Founded on merchant trade, ship building, luxury goods, silk and glass, Venice has always been a gracious host to visitors. This city of 60,000 is made up of a series of 100+ islands with almost 200 canals and over 400 bridges, plus a tidal lagoon protected by a series of sandbars (called the Lido). Give yourself at least a week to get the feel for the place, the art, the history, the amazing Byzantine architecture – and the Venetians themselves.
Getting around is easier than you would think: The transit gondolas (tragettos) get the Venetians where they're going for 1 Euro. On foot, it will take you about one hour to walk from one end of Venice to the other. But you'll need nourishment: Venetians pause at 11 each morning at their local cichetti bar for a light snack. Other must-eats include incredible fresh seafood and salt cod, fritto misto (deep-fried seafood and vegetables) and mostarda (stewed, candied fruit with a mustard syrup that you eat with cheese and biscuits). Keep an eye out for the early Renaissance, white marble-clad Santa Maria dei Miracoli, built in the 1480s. And keep the other eye out for ghosts: Mystery walks arm and arm with the romance here. Visit Venice-Tourism.com.