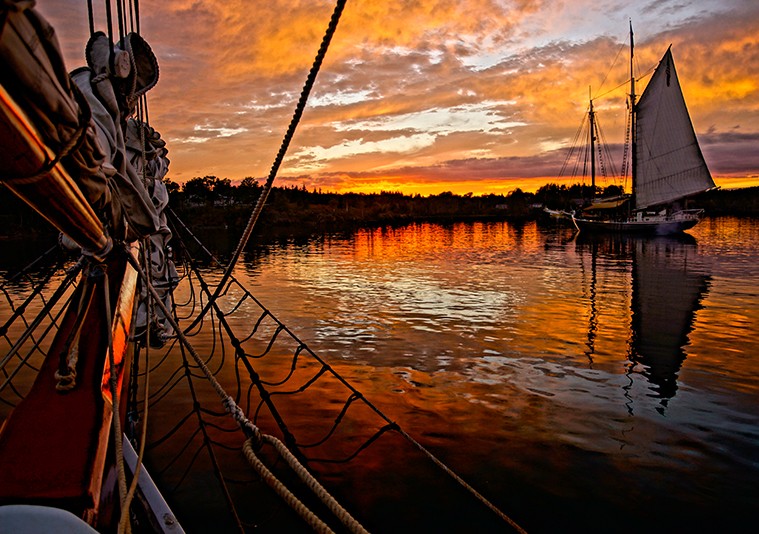 Rafts and trails and paddles and huts. Maine is built for people-powered adventure. Penobscot Bay (SailMaineCoast.com)
Maine
Sure you're been to Sugarloaf, but that was the wintertime. Maine's outdoor offerings in the summer are big on big-sky adventure, both on land and at sea.
Outdoor adventure resort Northern Outdoors in central Maine has full-day whitewater rafting (and a brewery) on the Kennebec and Dead Rivers every day. You can also fish, hike, kayak and canoe, or tear around on ATVs. The resort lodge is cozy and kitted out, with rooms there or cabins to rent, including open-loft "logdominiums." I just like saying "logdominiums."
In the state's Western Mountain region, Maine Huts & Trails is a non-profit that runs a world-class system of backcountry trails and eco-lodges for what they refer to as "people-powered" recreation. There are four interconnected huts (quite near Sugarloaf) that you can hike, mountain bike, and paddle between, staying in the lodges and huts. This is the great outdoors, but with way better food.
And if sailing is your thing, Maine Windjammers has nine sailing ships leaving from Rockland or Camden for three to six nights touring Penobscot Bay. These schooners are like works of art, with home-cooked meals and daily shore excursions. Look at it as camping at sea. Swim, tour around in a dinghy, visit lighthouses, eat a ton of lobster, and hike among puffins. Did we mention lobster?