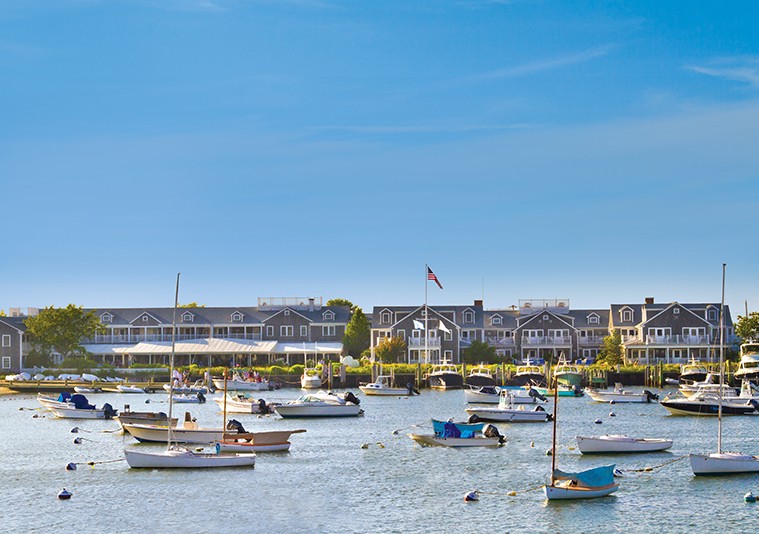 White Elephant Hotel is right on the harbour, walking distance to downtown Nantucket.
Nantucket
Southern Massachusetts, baby! I just like saying "Nantucket."
Nantucket is not just for the summertime anymore, either. Autumn really is the best time to visit, because the population drops from 80,000 to 10,000. Absolutely everybody who doesn't live there has gone home, so you can wander the cobblestone streets and rub elbows with the locals without tripping over other tourists. Plus, in the fall, you can still bike, sail and golf, and generally enjoy the outdoors a bit longer—and you can get a table at any of the nice restaurants. Table tip: Scallops are smaller and more velvety at this time of year, harvested from the chillier waters.
Digs in the fall are cheaper: Three to try include the three-storey mansion the Jared Coffin House (circa 1845), the Wauwinet (circa 1875) for lobstering and surfcasting, and the gorgeous and sprawling White Elephant (circa 1920s).
Be sure to pop into the Whaling Museum, which relates the island's 19th-century history as a whaling hub.
If your visit coincides with December, the annual Christmas Stroll is classic New England: markets, carolers, dozens of trees decorated by local artists and special sales. Santa arrives by coast guard.
When you give in and plan it, Cape Air can take you there from Boston in about 45 minutes, or you can make it a road trip. If you plan to visit the whole state, here are 100 things to do in Massachusetts from Your RV Lifestyle.