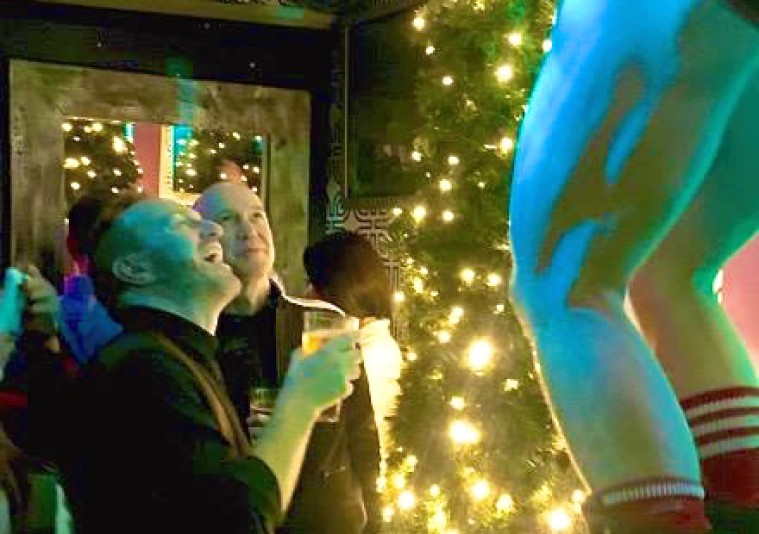 DANIEL BARRY
Best Gay Bars in London
Sometimes the old haunts are the best. Not because you're nostalgic or afraid of anything new, but because there is a fundamental charm that made them popular in the first place. And while gaybourhoods continue to peter out all over the world, their habitués syphoned off to mix with the straights in far cooler joints (in the East End), London's Soho churns on.
We've always been a big fan of gay business crowd cocktail-party throwers Village Drinks, whose after-work shindigs are still drawing them in many years on (and nary a hipster beard in sight). But only finding a speed-dating event listed during our weekend in London, we had to press on, and Soho seemed the best starting point.
Weirdly, Comptons of Soho on Old Compton Street was still fun, and MUCH CLEANER than I seem to remember from the early 90s, when I was the chicken in a room of hawks. The music was from this century, which was a good start, and the wood-panelled walls and corners were lined with singles – one hand in the pocket, one hand with the pint. "Are you a couple?" asked a hirsute hairdresser to whom we'd just been introduced. "Yes," we said, only to have him drift away from the conversation seconds later. Classic Comptons. We carried on down the street to Village on Wardour, and found a coveted perch directly under the go-go dancer. Entertainment was also provided in the form of a few higher-than-high Welsh ladies in the big smoke for a Saturday-night knees-up. Couldn't understand a word. Happily, all the Christmas decorations remained in tact, but we can't say the same for our dignity. Still, despite the Shadow Lounge closing this past autumn, the 'hood remains a fun pool to dip your toe into.
By the way, dinner at nearby Ceviche Soho, a Peruvian hotspot on Frith, was stellar. Have the Pisco Sour.