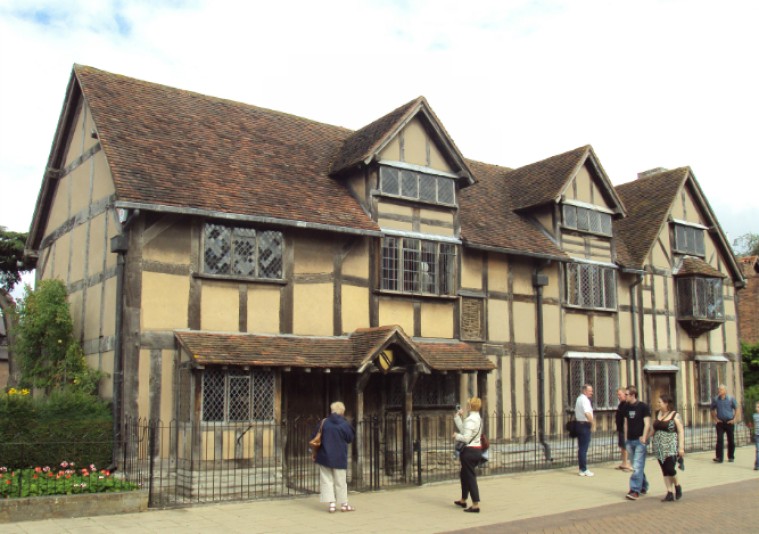 England: Stratford-Upon-Avon
You don't have to be an English major to be moved by a visit to Stratford, the birthplace of William Shakespeare.
Stratford, the Bard's stomping grounds, is a vibrant and busy little overnight side trip you can easily make, about a two-hour train ride northwest of London. And like a lot of famous out-of-the-way destinations, there is a tawdry, touristy side thriving happily alongside the peaceful, countrified atmosphere of this city of 25,000—riverboats, statues, swans and all.
• Head to the house. A visit to Shakespeare's actual birthplace is a must and you absolutely have to go inside. Some of the flooring on the main floor is original—Shakespeare actually walked on the same floor. (I truly can't remember whether this was the kitchen or a different room.) It's so tiny it takes just a few minutes to see. But you need to hang out in the back yard, because actors regularly perform one of his plays right on the premises. You can even write in with a request to join the resident actors.
• Book well in advance. A night at the Royal Shakespeare Theatre or the Swan Theatre will be absolutely magical. It won't matter what play you're seeing, it will be a superb experience that you will dine out on for years afterward.
• Hang with the actors. After your night at the theatre, pop up the street to the dual-named Black Swan/Dirty Duck pub for a pint, and wait for the actors to wander in later to bask in the groupie glory. The critics also congregate here after curtain calls to bitch. Take time to look at the signed black and white headshots and see who you recognize. This is the only pub in England to have a licence under two names.
• Go in comfort. Stratford has hotels at different price-points, but you want to stay at either the 400-year-old Church Street Townhouse or the 45-room The Arden Hotel, both central and within walking distance of the theatres.