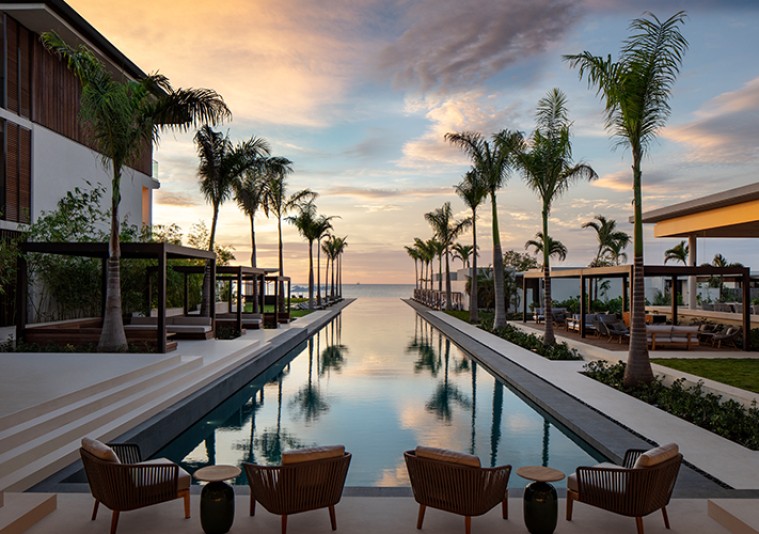 Grenada: Silversands
Opened in November 2018 at one end of Grenada's Grand Anse, this sublime 43-suite resort is proving a fast favourite with the "in" crowd, boasting the longest pool in the Caribbean at 100 metres.
Vibe: Designed by French firm AW2 with the international jet-set circuit in mind, the minimalist 43-suite, nine-villa Silversands is a sea of tranquility, its blond wood, neutral tones and pale marble buoyed by exquisite furniture from Spanish architect Patricia Urquiola.
Rooms: The Silversands rooms are done in neutral-toned glam—oatmeal is the new oatmeal—and lots of vertical wooden slats shooting up walls and camouflaging the cupboards and closets. The seating areas are so inviting you may actually spend time sitting in them. I fell asleep on a giant chaise longue on the balcony (with earplugs to mute all the birds), which is something I never do.
THINGS TO DO: IN GRENADA
TASTE TO TRY: GRENADA GASTRONOMY
F&B: There's a wine cellar with 1,000 bottles in it. Is this big? I don't know, but it sounds like I want to drink all of it. Breakfast at Asiatique is stellar—do not skip this. In the evening, it pumps out Modern Thai underneath huge, curlicued wooden ceiling installations. At the beachside Grenadian Grill, we sipped rosé and lunched on salmon tartare and French fries—it was two hours of heaven. Having rum nightcaps under the canopies of the beachfront lounge, we miraculously blended in with the jet-set crowd grooving to the DJ, but really, anyone can fit in here and have a good time and not feel intimidated by the rather posh peeps.
Extras: The Silversands Spa offers locally inspired treatments, sauna, hammam and private pool, plus a tricked-out fitness centre. With a rum and cigar lounge (which seems kinda '90s to me), the resort is destined for the society pages.
Off-Site: With few high rises and less development, Grenada still manages to possess the kind of charm that appears slightly manufactured elsewhere. Do the hikes up rainforest mountains and find time to book an afternoon on a wooden boat sailing. Make sure you eat the chocolate; it will be the freshest you will ever taste. Prime scuba diving at the Underwater Sculpture Park is well worth it, even if you're snorkelling.
Word Googled While Writing This: Curlicue
Rate: $$$$