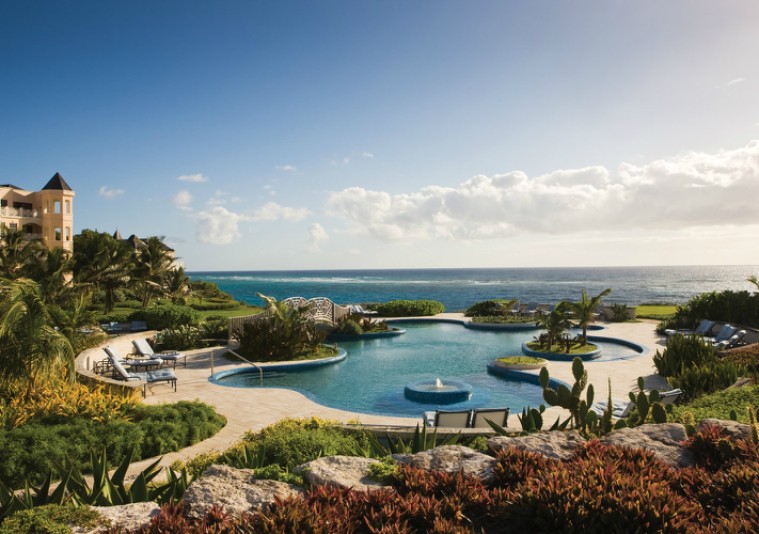 Barbados: The Crane Resort
Tradition lives on at the oldest continually operating hotel in the Caribbean. Opened in 1887, The Crane was once the haven of visiting plantation owners and rich sea merchants. The 18 historic rooms are still there, now surrounded by 234 other one- to three-bedroom suites and penthouses.
Vibe: At The Crane, you will meet well-heeled American, Canadian, British and European couples, groups of friends, retirees and families who have been coming back year after year for years, including the timeshare guests who make you feel at home by being at home themselves.
Rooms: Mahogany absolutely everywhere. Even the one-bedroom suite feels like a small condo, your two kids bunking down in the large living room. A dining room and full kitchen (fridge with ice dispenser, dishwasher, washer-dryer) is perfect for families who want to have at least a few meals in. Bedrooms have a four-poster king-size bed and a writing desk, leading into a big bathroom with two wardrobes, whirlpool bath, separate toilet, separate shower and double vanity.
F&B: The Zagat-rated Zen restaurant is the island's go-to for Japanese and Thai food, its private booths elegant and inviting. D'Onofrio's Trattoria bills itself as casual family dining, but I must have dined when the children had all gone to bed. It serves the best Italian food I have ever had in the Caribbean, full stop. Sun-worshipers flip-flop into the palm grove behind the beach for hearty lunch plates at The Grove Bar & Grill.
TASTE TO TRY: TRADITIONAL COU-COU
Extras: Swimming pools for days! Even the swimming pools have swimming pools. Many ground-floor suites have private pools up to 28 feet long. Corner rooms have plunge pools in the turrets on every floor and penthouse suites have 12-foot pools with rooftop garden decks. The Crane is also equipped with a full-service Serenity Spa, a fitness centre and a kids club. (Yes, there's a swimming pool for adults only, too.)
Off-Site: The serene beaches of the east coast are a 30-minute drive north. The south coast beaches are a 20-minute drive and you can reach the beaches and nightlife of the west coast in 40 minutes. The airport is just 15 minutes away.
Rate: $$$
Book Now