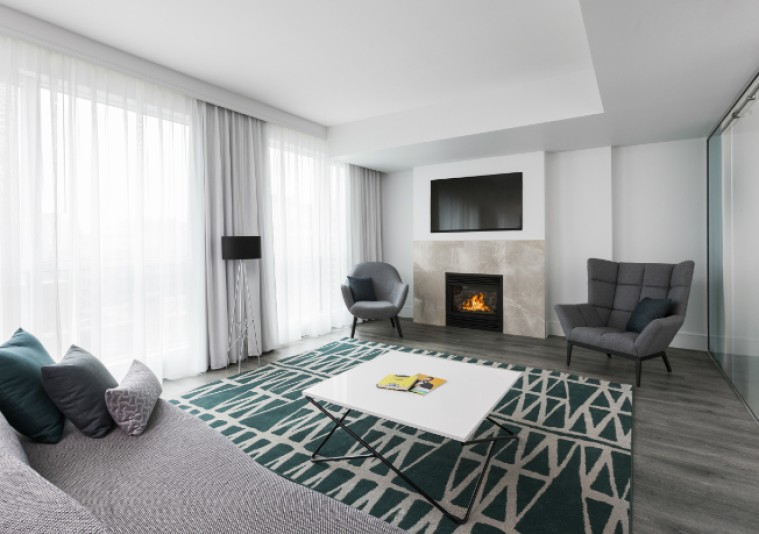 Montreal: Hôtel le Crystal
A chic upgrade gives a Golden Mile heavyweight luxury status. Since opening in 2008 as one of the first boutique hotel-condo hybrids in the city, Hôtel le Crystal has been an oasis of calm in a busy part of town. A cool new renovation sees it embracing the cool qualities of its name, and amping up the luxe factor.
Vibe: Super nice staff at Le Crystal! Service is warm, unscripted and efficient. Rub elbows with sports fans and concert-goers with cash (they're not sitting in the cheap seats), business people and visitors who are drawn to the glamour of the Golden Mile in some way, be it the shops or the restaurants, the architecture or simply the chic-factor.
Rooms: A crystal-patterned mural and carpeting, plus a mirrored sculpture, play up the décor theme in the loft suites. Larger suites have crystal-shaped coffee tables. Clean lines and minimal fuss (read: no other art) lend a sense of airiness. A small kitchenette is equipped with a sink, fridge and microwave. A long, white workspace counter doesn't get in the way. Big bathrooms have shiny, white tiling and ceramic flooring, chrome-trimmed double sinks, soaker tubs and rain head showers. Some suites sport room-sized balconies, almost doubling your space. Like, you could have a cocktail party for 25 on a nice day, provided everyone brings a hat.
F&B: Highly touted Thai restaurant Siam Centre-ville is right off the lobby, serving authentic Thai cuisine inside and out. There's also a Starbucks counter in the hotel, too.
Off-Site: There's lots going on outside the front doors of this convenient spot at the edge of the Golden Square Mile in west-central Montreal. The hockey arena, Bell Centre, is a two-minute walk, as are the shops of St. Catherine Street West. Both Concordia University and the Montreal Museum of Fine Arts are a 10-minute walk away, as is the Central Train Station. And you can walk to Old Montreal in about 25 minutes.
Rate: $$$