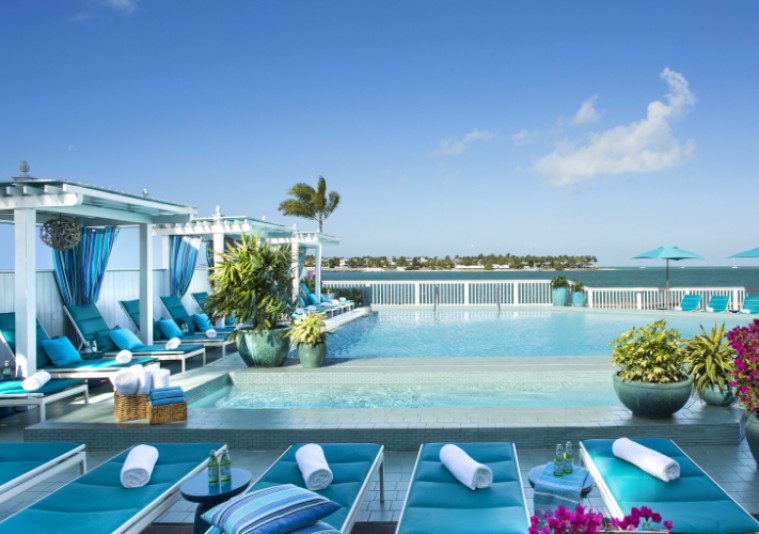 Key West: The Ocean Key
Take a step back in time at this chic Keys icon on historic Duval Street. With the absolute best spot to watch the sun set in town, classic four-tower Ocean Key Resort and Spa overlooking the Gulf of Mexico sets the standard for traditional Key West relaxed luxury, i.e. fun yet stylish romp-ability.
Vibe: Most Ocean Key guests have visited before and wouldn't stay anywhere else. While not exactly high-rollers, they have a certain air of success about them, particularly the groups of vacationing middle-age couples and young families. Keep an ear out for Alabama and Georgia accents—perfect for a game of spot the American.
Rooms: A natural Caribbean look—a turquoise, green, blue and yellow colour palette, hand-painted furnishings and local art—sets a relaxing and breezy tone. Speaking of breeze, all rooms feature a private balcony with views of the sea or Duval Street. Along with a pull-out sofa and jetted tub, you can expect a minibar, free Wi-Fi and in-room dining. Two-bedroom suites size up to 1,200 square feet, the largest on the island.
F&B: You can eat at the pool and on the Pier—savouring ceviche, conch hushpuppies and fish burgers—but save your belly for Hot Tin Roof, named after author Tennessee Williams, who spent a lot of time in Key West. Find painted ceilings, teak and mahogany trim, white leather chairs, warm ocean breezes and quiet company. Tuck into Caribbean and Floridian comfort food like scallop risotto, caramelized grouper and broiled lobster.
Extras: The guests-only pool is really kind of a pool-slash-lounge, all striped blue drapes and white cabana beds, frozen fruit treats and proper terry chaise covers. Sunset Pier along the sea side of the property offers not only the best place to catch the sunset, but also a local live band every night. And don't worry, there's lots of shade there if you've taken to day-drinking. Spa Terre is small, but its island-themed treatments, particularly the facials, will set you up with prime pampering.
Off-Site: Happily, Mallory Square and all the busking, trolley-bussing, and tourist-attracting charm is right outside and around the corner. Enjoy the whole of Old Town's shopping, dining, museums and attractions all within an easy one-square-mile pedi-cab ride. The Key West airport is a 20-minute drive away.
Rate: $$$