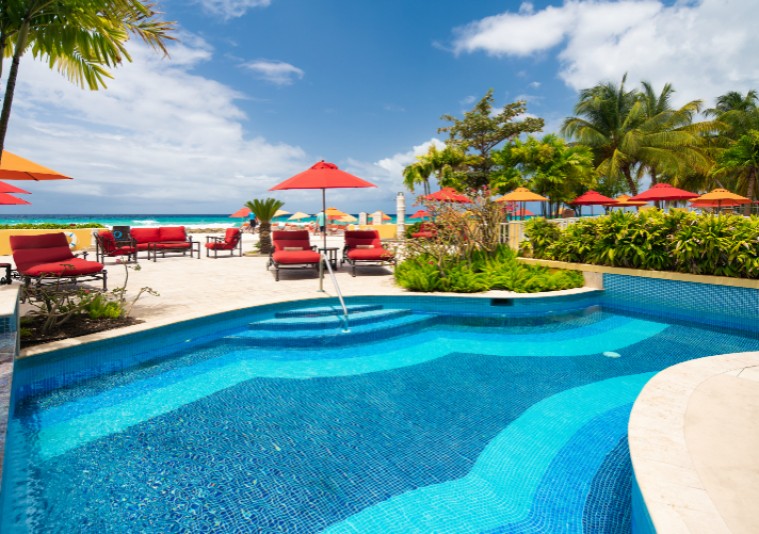 Barbados: Ocean Two Resort
Award-winning, family-owned Ocean Two is a little taste of luxury tucked into one end of Dover Beach, off the beaten Saint Lawrence Gap path in south Barbados. Opened in 2011, it still looks new, offering both good value and good people-watching.
Vibe: Nicely dressed, mostly young Canadians, Americans, English and Europeans co-mingle at the Ocean Two breakfast buffet and later in the pool. Say hello to lots of young couples and honeymooners, some LGBTQ, fun-loving packs of special-occasion celebrants, a few families, some multigenerational, not a lot of kids. Everybody loves a rum punch, I noticed. The front desk is absolutely razor sharp.
Rooms: Traditional mahogany furniture and contemporary furnishings dress up clean and comfortable rooms, equipped with TVs, rainfall showers and furnished balconies. Some rooms have whirlpool tubs. Big one- and two-bedroom suites also have full kitchens (with big fridges) and living/dining areas—really these are like small apartments. My suite came with a little de-humidifier, which was greatly appreciated.
F&B: Ocean Two keeps it simple with just one open-air restaurant steps from the beach and pool serving a breakfast buffet, lunch and dinner. The food and beverage program is overseen by chefs who also lead the kitchens at Sea Breeze Beach House and South Beach Hotel. The restaurant and swim-up share the same bar, but the real action is in the expansive lobby lounge and onyx bar of Oasis, which runs from the front desk straight out to the pool. Swooping, pillow-laden banquettes and basket chairs lend a patio feel. A rooftop terrace and plunge pool is a good spot to watch the sun go down on your day.
Extras: Ocean Two is the perfect size, a Goldilocks medium, neither sprawling nor puny. It has its own little stretch of beach and a pool split into two sections, one long enough to swim laps. But my most favourite touch is retro: the big, metal, plush pool loungers reminiscent of a Golden Girls lanai. They just don't make them like that anymore. A 24-hour gym works off the calories from all the rice and beans.
Off-Site: Ocean Two is steps from Dover Beach on the Caribbean Sea along the south west coast of Barbados in the busy hotel-heavy Saint Lawrence Gap area. Both the capital of Bridgetown and the airport are about a 25-minute drive away. A strip of casual restaurants and bars is just a five-minute walk away—you can stumble home.
Rate: $$$