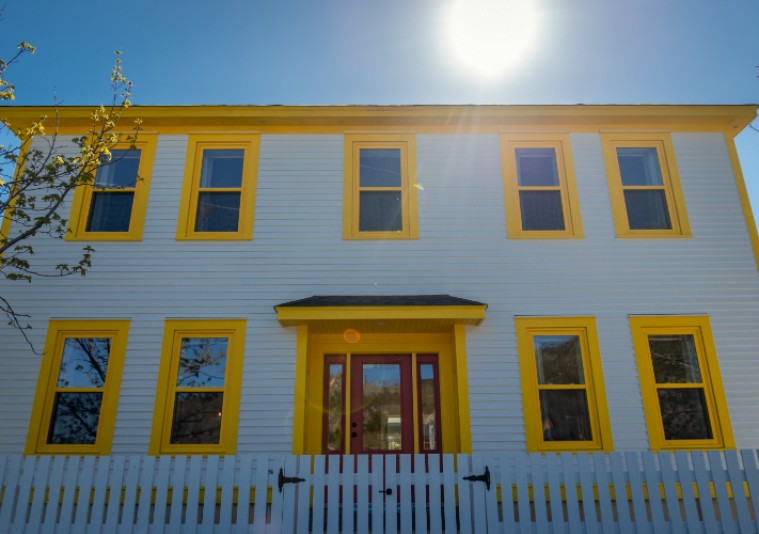 St. John's: Inn by Mallard Cottage
Go for the traditional Newfoundland charm—stay for the warm-hearted, unending welcome. Opened in June 2017, the Inn by Mallard Cottage is a little taste of heaven surrounded by the craggy harbour cliffs of picturesque Quidi Vidi Village, delivering legendary Newfoundland hospitality at its best.
Vibe: At Inn by Mallard Cottage, two separate guest houses contain a total of just seven rooms, each so quaint you may never want to leave. Vacationing couples, business creatives, retirees—a mixed bag of relatively well-heeled guests comes here to relax for a few days and read a book. People celebrating a special occasion will book a big dinner at the renowned Mallard Cottage restaurant across the street, and then spend the night.
Rooms: Find high ceilings and king beds in 435 square feet of space with white painted wood walls and floors. Punches of colour come from the traditional wooden furniture and handmade quilts on the beds. There are no TVs, but a Tivoli radio with Bluetooth capability sets you up for sound. Big bathrooms have walk-in showers. Rooms are also equipped with a free bottle of wine and beers in the fridge (also free).
F&B: Once the private residence of the Mallard family, 18th-century Mallard Cottage is a National Historic Site of Canada, refurbished as a restaurant in 2013. It focuses on seafood, wild game and local produce whipped into jazzed-up Newfoundland culinary staples. The menu is posted on Instagram every day and can include dishes like corn-fried cod cheeks, salt cod tartare, pickled mussels and hedgehog mushrooms—everything in season. Reservations are required. A daily hot breakfast is served there in high season, but the special treat is the little breakfast tray that arrives at your door in the morning, with coffee and baked treats.
Extras: Hardy Boys books! The friendliness of this neck of the woods is unbeatable, like you've being invited into someone's home. As such, the Inn's multiuse common room has a big table, around which you can chat with whomever is handy, power up a laptop or pour yourself a drink from the common bar (also free).
Off-Site: Close to hiking and biking trails, fishing excursions and berry picking, this fishing community was first settled in the 16th century. Quidi Vidi Village is a 10-minute drive from downtown, and you feel like you're out of the city even though you're not. It is also home to a visitors' centre and art studios, as well as Newfoundland's largest micro-brewery, Quidi Vidi Brewery. The airport is 20 minutes away.
Rate: $$