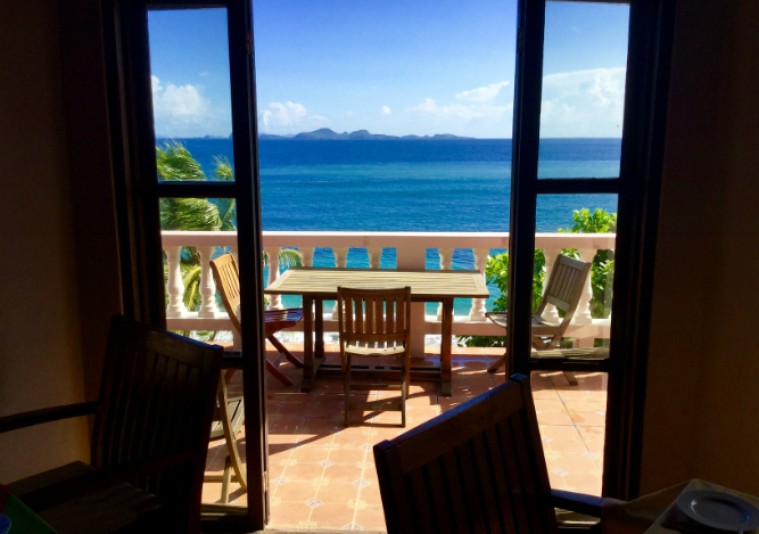 Grenada: Petite Anse Hotel
This 13-room Petite Anse on Sauteurs Bay makes you feel like you have the whole north coast of Grenada all to yourself. Hosts Annie and Philip Clift deliver a warm and welcoming, slightly Bohemian environment that includes a tropical garden, pool, whirlpool, bar and restaurant, all just a few steps from a wild palm-studded beach.
Vibe: Visitors to the Petite Anse are after peace and quiet. Guests really fit in with the locals, who drop in for a chat, a drink or a meal. This is a good honeymoon spot, and a great place to escape to after you've spent some touristy time around the southern peninsula and in the fancier resorts of St. George's.
Rooms: Eleven stand-alone, air-conditioned bungalows feature decks or terraces and hammocks to fall asleep in. Wooden flooring and simple colonial-style wooden furniture is unfussy and functional. Canopied beds have netting to swirl around you, though a steady ocean breeze here keeps the bugs away. Spacious ensuite bathrooms are more open to the elements and to the front deck. Two rooms in the main part of the hotel are also well-equipped and comfortable.
THINGS TO DO: IN GRENADA
TASTE TO TRY: GRENADA GASTRONOMY
F&B: The European-inspired dining room is a destination restaurant, with many locals stopping in, elevating the insider experience. Fruit and vegetables come from the owners' gardens or are carefully sourced from regional farmers. Fish is sourced from local anglers. The menus change daily and also include steaks, chops, chicken and fresh salads—and homemade ice cream. A traditional breakfast of fried bread and salted fish will stick to your ribs. A lounge area is equipped with a library and stacks of board games to while away rainy afternoons.
Extras: Annie is famous for her love of animals, which roam the complex and become fast friends. She sometimes rides down from her nearby plantation house atop Darius the donkey. I played with a mischievous teenaged cat for a half-hour in my room each night at turndown until he got bored and wandered off.
Off-Site: This little retreat is miles away from the neighbours and that's exactly how you want it. The hotel looks out to Ronde Island and Carriacou, and their surrounding little Lower Grenadine islands. The resort is a six-minute walk from the beaches of Sauteurs Bay. In the car, you're six kilometres from Levera National Park, 11 kilometres from Belmont Estate with its plantation tours and museum, and 45 kilometres from Maurice Bishop International Airport.
Rate: $$