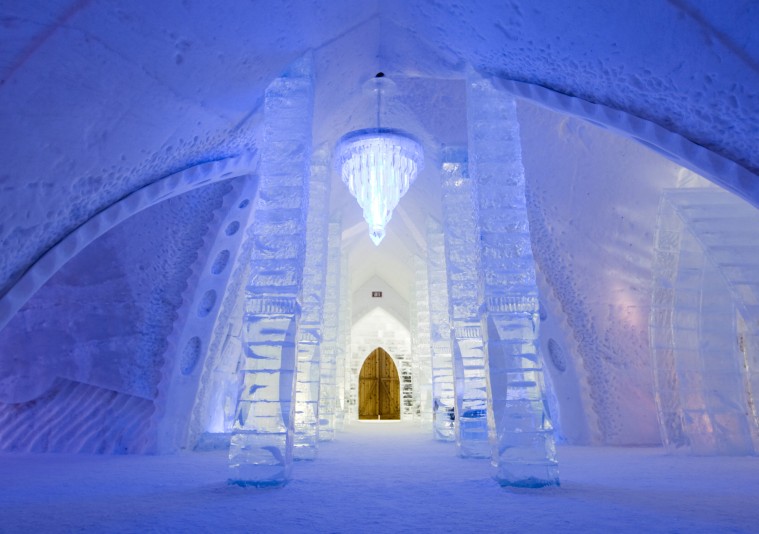 Quebec: Ice Hotel
Winter glamping returns year after year—same time, same place. Built every January in Valcartier Village Park out of 30,000 tons of snow only to melt when the higher temps return, the Hôtel de Glace is the only ice hotel in North America and a solid rival to its counterparts in Finland, France, Iceland, Sweden and Switzerland.
Vibe: With 44 rooms, the Ice Hotel welcomes an international crowd, who rest their heads in thermal sleeping bags in –5º rooms. You have to be game for the fun of it all, but the unique beauty of the surroundings—thanks to the creations of 15 different ice sculptors—makes it all worthwhile. Expect both local and international traffic here, mostly the curious, the courageous and the canoodling. This is a great honeymoon spot, thanks to the super-romantic fairy-tale atmosphere.
Rooms: The Ice Hotel is open all day for tourists, who can wander throughout the entire hotel, including the rooms, with overnight guests not really "checking in" until after 9 p.m., when the staff has administered turn-down: i.e. rolled out the sleeping bags. Standard rooms contain a wooden-framed ice bed with a mattress and covering, plus an ice side table—that you can't really use, because whatever you put on it will just melt into it. The sole light is incorporated into the bed frame. Dark velvet curtains cover all doorways, and not that well, so it's best to bring earplugs, even though it's far too cold to have sex. Fancier rooms are larger, with ice sculptures carved into the walls and gas fireplaces that are lit for about 45 minutes pre-bedtime. Guests just bring themselves to their rooms, leaving everything else in lockers in the Valcartier Hotel. Outer clothing gets stored in the nylon bags the sleeping bags come in, then you wriggle first into a nylon sheath and then into your mummy-style sleeping bag. Most guests opt for ski underwear—and a toque. Cellphones get tucked alongside your body so as not to freeze, all the better to take those all-important selfies. There are a few portable toilets, but all facilities, including showers, are inside the Valcartier.
F&B: There are nine different eating establishments within the resort area. The food is nothing special, most of it fast-food counters and ski-lodge cafés, with the exception being O'Grill, serving classic Quebec favourites, and Le Chalet Sportif, dishing out elevated pub fare. There are three ice bars furnished with ice tables and adorned with many marvellous ice sculptures and "cozy" seating areas, plus a couple of gas fireplaces.
Extras: A gorgeous ice chapel in the outer courtyard is undoubtedly one of the most romantic wedding-ceremony settings in the world. An outdoor spa area offers a hot-tub experience under the stars.
Off-Site: Ice Hotel guests can also have the run of all the Valcartier facilities, including a day spa, an outdoor tubing park and a gigantic indoor water park.
Rate: $$$