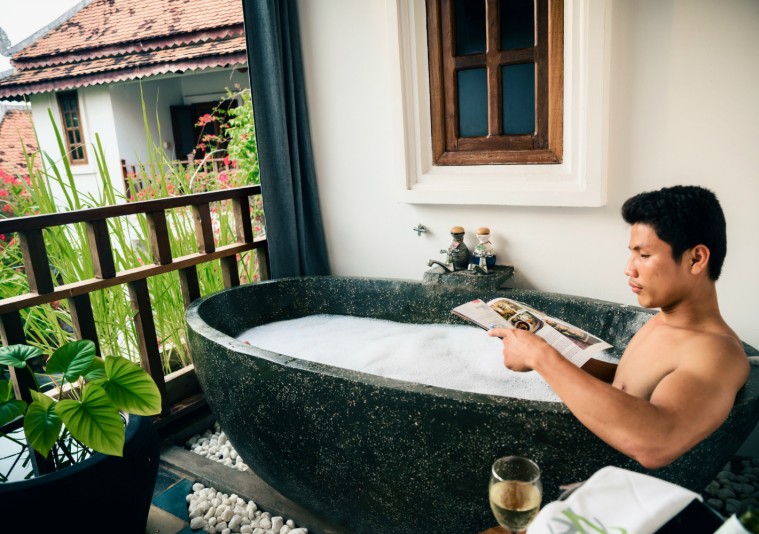 Tong in the tub! Find a quiet moment at The Rambutan Siem Reap.
Al Fresco Tubs
It just takes one hotel to start the trend ball rolling and the rest will surely follow to save face. Of the many "authentic" and relaxing ways to slow guests down in a tech-forward world, the trend of kitting out private patios with an al fresco bath tub has to be one of the most whimsical.
Now that every single hotel in the world has a rainfall shower head, the folly of a quick dunk in an al fresco tub on the terrace really ups the game. Here are a few of the newer favourites on our radar.
RIVIERA MAYA, MEXICO: UNICO 20°N 87°W Hotel. Second-floor rooms in the Alcoba Ocean View category of this all-exclusive, all-inclusive, adults-only resort come with an outdoor spa tub right on the patio, looking out onto the whole resort and the ocean beyond. The upscale hacienda-style rooms are so beautifully designed, you won't want to leave. As the tubs are on the balcony, you'll have to dress appropriately for this hydra-therapy experience—unless the lights are out. $$$
UnicoHotelRivieraMaya.com
SIEM REAP, CAMBODIA: Rambutan Hotel & Resort. This quaint gem on the quieter side of Siem Reap comes in three parts: a main hotel with 16 rooms, a 10-room resort wing, and a few luxury apartments. On the resort side of things, the Deluxe Terrace and Deluxe Rooftop Terrace rooms have their own private patio with an outdoor bathtub and splash shower. When you tire of traipsing through the nearby temple ruins, you can relax in a cool bath after a nice massage at the lobby spa. $
RambutanSiemReap.com
LONDON, UK: The Zetter Hotel. This Clerkenwell mainstay has been wowing the hip and happening crowd with its 59 boutique hotel rooms since 2004, with the nearby Zetter Townhouse joining the party in 2011. The art and design, the attention to detail, and the state-of-the art tech amenities keep people coming back. But the hotel's recent refurbishment of its Deluxe Rooftop rooms on the fifth floor will garner even more fans thanks to private al fresco tubs on the terrace. A gin in the bathtub, anyone? $$$
TheZetter.com
BIG SUR, CALIFORNIA: Glen Oaks. Things are big in Big Sur, Al Fresco tub included. At the Big Sur Cabin at the magnificent Glen Oaks lodge, you and your significant other can embark on a romantic double-soak adventure in the outdoor tubs, witnessed only by the nearby redwoods and the cozy wood fire pit. $$$
GlenOaksBigSur.com