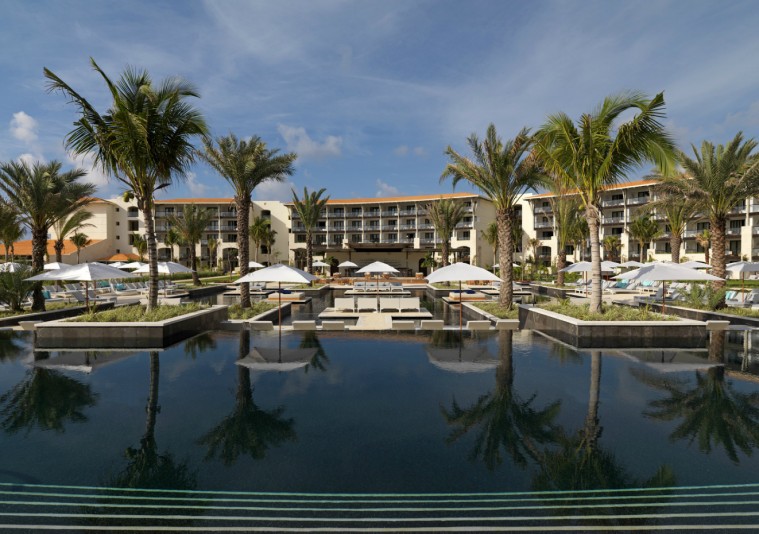 Mexico: UNICO 20º 87º
The five-star, adults-only UNICO 20º 87º Hotel Riviera Maya, a half an hour south of Playa del Carmen, bills itself as an "all-exclusive" all-inclusive resort, with a laundry list of perks such as butler service, select spa services, 24-hour room service and free phone calls home all built in to the cost.
Vibe: A very social atmosphere is promoted at the UNICO, with guests are encouraged to mix, not for anything as mundane as volleyball or aquafitness, but at live music events, mixology classes and cool off-property excursions that take you into the real Mexico.
Rooms: The 448 rooms have a glamorous but low-key hacienda feel, all rustic and homey, with natural materials, handmade décor elements and local art. Main-floor rooms feature a semi-private swim-up pool, while those on the floor above sport massive spa tubs right on the patio. (Wear your swimsuit!) The resort even offers hypoallergenic rooms put through a multitude of air-purifying paces, going so far as to employ a type of shock-treatment method to kill bacteria.
F&B: When the breakfast buffet has a carpaccio station—beef, salmon, tomato, cucumber, octopus!—you know you're in for a fancy week of good eating. Lavish culinary offerings from UNICO's five restaurants are culturally varied, each with its own spin, from simple to splendiferous. At Cueva Siete restaurant, one of four on the property, traditional Mexican dishes are given a modern twist by a rotating lineup of award-winning Mexican chefs.
ALSO EXPLORE: PLAYA DEL CARMEN
Extras: Traditional butler service has been replaced at UNICO by a local host, available 24/7 via smartphone app, where you can also find the daily schedule and connect with resort services. I'm simply too Canadian to ring someone to come over and draw my bath. I can manage the plug and the tap and a squirt of soap. At the Esencia Spa, I worked the water circuit like a pro, moving from the sauna to the cold room, where a large pipe from the ceiling spat fresh crushed ice into a bowl all day long. From there, I donned those funny paper underpants before being scrubbed down and wrapped in chocolate. Yes, chocolate.
Off-Site: UNICO has also joined the ranks of resorts taking guests off the property on local excursions to meet the people. My morning spent cliff-diving into the deep, fresh-water cenotes was followed by a barbecue lunch in an indigenous village, where I practically inhaled the best chicken I've ever tasted.
Rate: $$$