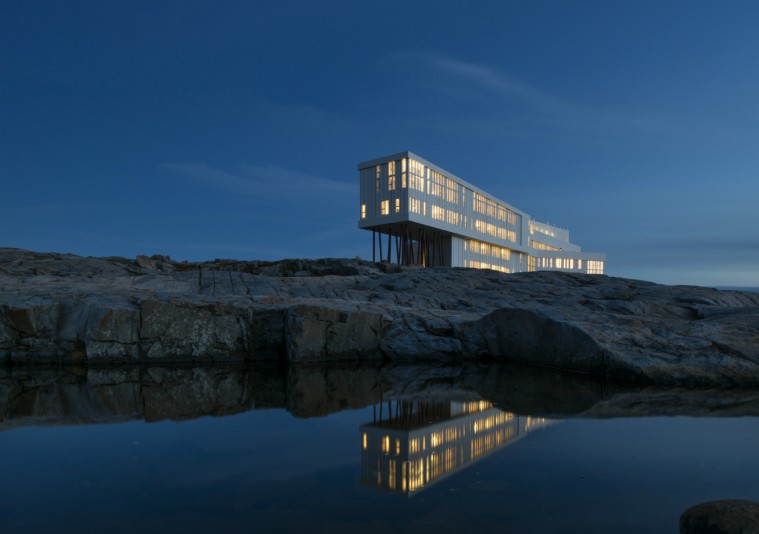 Newfoundland: Fogo Island Inn
Radiating both modernity and tradition, this comfortable resort on one of Newfoundland's most remote and beautiful islands delivers homespun luxury with community-oriented hospitality.
The hospitality here is sublime. Guests get a feeling they're at Grandma's house and can do as they please. As a charitable, socially conscious business, the Inn reinvests profits in the Fogo Island community.
Vibe: Sweeping contemporary architecture is contrasted with interiors based on the history, traditions and cultural icons of Newfoundland. The result is an upscale take on the fishing village leitmotif, an unfussy prettiness that is understated yet sumptuous—a meeting of new and old. Colourful furniture, quilting and crafts punch up white-painted wood floors, walls and ceilings. A thought toward the essence of Newfoundland culture can be found at every turn.
Rooms: Ranging in size from 35 to 100 square metres, the 29 rooms and suites sport floor-to-ceiling North Atlantic views, handy binoculars, heated wooden floors, hand-crafted quilts and rugs, and locally produced furnishings. Toile wallpaper designs spotlight local architecture. Bathrooms feature electronic toilets and walk-in showers. Twenty-one rooms have wood-burning stoves and 11 rooms have soaker tubs.
F&B: The local Fogo Island flavours never stop. But don't expect a larder full of the usual North American staples—you eat what is available in Newfoundland at that particular time of the year, with limited outside ingredients involved. Think foraged berries, mushrooms, wild greens; produce procured from neighbourhood community gardens; the freshest seafood, including the province's ubiquitous and delicious cod; salt-cured meats and some wild game. Absolutely everything is homemade with menus changing frequently.
Extras: The Inn features a lobby lounge and bar, tea room, art gallery, library and cinema. Wellness facilities include a gym, and rooftop saunas and hot tubs.
Off-Site: This part of the province is famous for parading icebergs, cavorting whales, wild storms and the Northern Lights. The resort's Community Host Program matches local people with incoming guests to help orient them to the region and to its heritage. Free excursions include a range of natural, cultural, marine, and artistic activities: things like guided geological hikes, berry-picking and jam-making, boating and fishing, snowshoeing and snowmobiling, bike rides and bonfire nights.
Rate: $$$$$