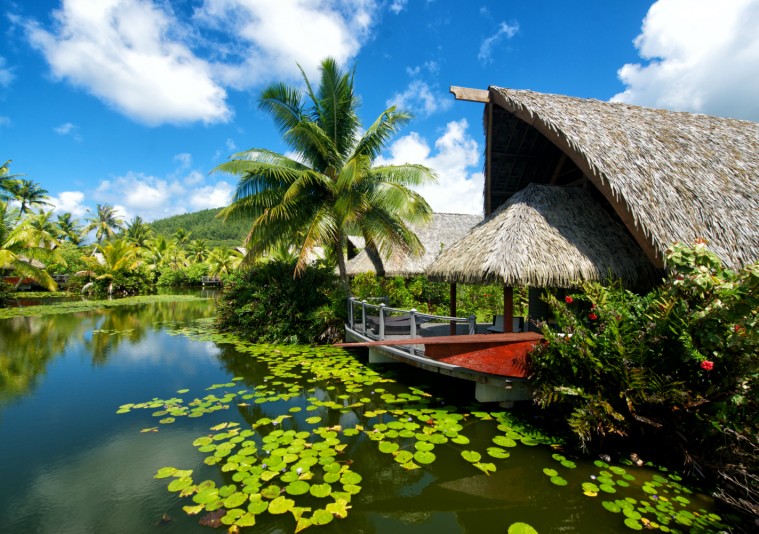 French Polynesia: Maitai Lapita Village Huahine
On Huahine, vacationers get a modern-day Tahitian island experience, a chance to see how real people live.
The Maitai Lupita Village is a perfect mix of past and present, with a beautiful infinity pool that looks out onto the very same view explorer Captain James Cook had in the late 1700s.
Vibe: Designed specifically with the region's rich history in mind, this Huahine property yields spacious bungalows in the style of canoe huts, architectural details that mimic traditional Tahitian artwork and motifs, and a small built-in museum full of ancient artifacts, some dating back to 1500 BC.
Rooms: Thirty-two Garden and Lake Bungalows offer total privacy, mixing traditional design and décor with modern comforts. It's like an exotic movie set, complete with vaulted ceilings, intoxicatingly fragrant flowers and plants, and massive terraces that look out onto the botanical parkland and mountains beyond.
F&B: Find a fusion of French and island cuisine at Omai Restaurant and the Oaoa Bar overlooking the beach. Fresh ingredients rein in dishes such as grilled yellowfin tuna, king mackerel, goat curry; fixings like marinated seaweed and exotic fruit chutneys add to the deliciousness. The house Maitai is perfect.
Extras: Free snorkeling gear and kayaks. Duck into the week museum to learn about the history of the Lapita people, the pre-Polynesian ancestors. Pottery shards, wooden and whalebone sculptures and tools, tinted engravings, 19th-century photographs, reproductions of war clubs, fishing lures and jewellery—all help illustrate early life here.
THINGS TO DO: IN FRENCH POLYNESIA
Off-Site: Rustic and down-to-earth, Huahine is a bit of an artist enclave, and home to more than a few French and American ex-pats looking for a simpler, slightly bohemian life. The two-island grouping is also the site where archaeologists have found the oldest carbon-dated remains, pre-dating Hawaii.
Rate: $$