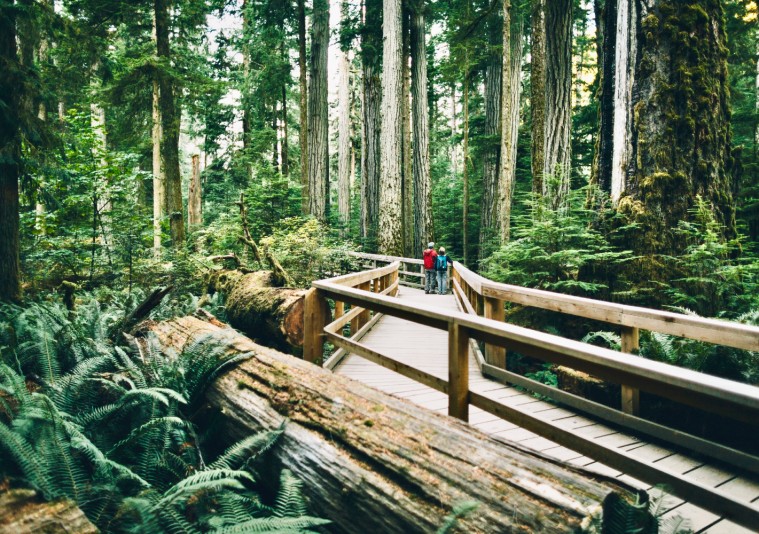 Cathedral Grove is home to the largest Douglas firs and red cedars in Canada. (Graeme Owsianski)
Vancouver Island
A Vancouver Island road trip yields bold libations, divine seafood, big hikes and heavenly hydrotherapy. The British Columbia coastal regions have a myriad of spots to explore, east and west.
First stop: Comox. Hop in a car and onto the ferry at Horseshoe Bay to Nanaimo, then head north. This thriving region offers nature-lovers plenty of adventure via wildlife viewing tours, mountain biking over 250 trails, year-round golfing—even caving on a rainy day. Add a tasting at 40 Knots Winery to your list of must-dos. You're staying at Kingfisher Oceanside Resort and Spa for the picture-postcard views of the Strait of Georgia and the unique Pacific Mist Hydropath at the resort spa. We take the waters in an almost Flintstones-like cave, guided through five different sandstone-sculpted alcoves and pools—a shower, a pool, a waterfall, a steam, an ice-cold waterfall, a hot-cold bath, a mineral soak and a scrub.
Second stop: Forest. Before you head down famed Pacific Rim Highway #4 that winds through the mountains to the Island's west side, stock up on car snacks in Coombs, where the roadside Old Country Market has goats grazing on its rooftop pasture—not kidding. Along your two-hour drive, make time for two short walks: one at Little Qualicum Falls and the other at Cathedral Grove, home to the largest Douglas firs and red cedars in Canada. The island also has some of the oldest fir trees in the world, many commonly living up to 750 years old.
Third stop: Ucluelet. Once you reach the ocean, dip south for a night or two at The Francis, a self-contained, high-style boutique inn. It's walking distance from the Wild Pacific Trail, a gorgeous eight-kilometre stretch of hiking through old-growth coastal rainforest. The seasonal Ucluelet Aquarium is Canada's first catch-and-release aquarium, with an annual Release Day in early December.
Fourth stop: Tofino. Carrying on north, a few nights at the hip Tofino Resort + Marina is next on the itinerary. This combo hotel, restaurant, bar, gym, marina and outdoor adventure centre is a hub of activity night and day with both tourists and locals. Dinner at the resort's 1909 Kitchen is a smorgasbord of taste sensations. Tofino is considered Canada's surfing capital, with year-round waves enticing surfers to 35 kilometres of sandy coastline. Before you leave town, try to spend an afternoon with Tofino Food Tours to get in on some of the area's top local culinary specialties. The Island produces some of the best hot-smoked sockeye and chum salmon in the world. Take some home from Dockside Smoked Fish Store in Tofino.
Fifth stop: Parksville. On your way back to Nanaimo or Victoria, book in for a night or two in one of the log cabins at Tigh-Na-Mara Seaside Spa Resort, and make sure to hit the detoxifying mineral pool at its award-winning Grotto Spa. After that, you can start planning your next visit.