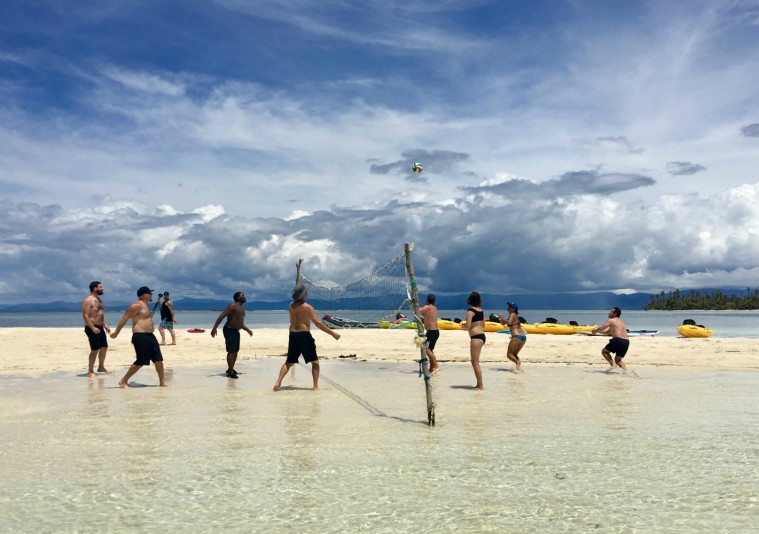 Panama
Small-ship cruising along Panama's two coastlines yields unrivalled R&R, jungle adventure and a type of unstructured holiday you don't have to save for your old age.
On a nine-day small-ship journey with UnCruise, an adventure travel outfit from Seattle, I toodle around the bays and islets off Panama's Pacific and Atlantic coasts on Safari Voyager with 40 or so other intrepid travellers.
"We are the antithesis of the big ships," says UnCruise owner Dan Blanchard. "Everything we do is not about the boat, it's about what's off the boat—the nature and wildlife. Essentially, the boat is a floating lodge we 'hub and spoke off' all day, the tool to get us to the places we can't get to otherwise."
Spot the boobies. I rarely get excited about boobies. But then I spot my first blue-footed boobie—and I'm mesmerized. On an inflatable skiff looking through binoculars, we see their cliffside bird colony on Little Pacheca Island in the Gulf of Panama. My boobies aren't alone: I also see cormorants, pelicans and more, each commanding their own particular real estate around their wee island rookeries.
Find your tribe. Further down the Pacific coast, we spend an afternoon at an Indigenous village in the Darién province, communing with a tribe of welcoming Emberá villagers still living the same traditional jungle life that goes back centuries. After a formal welcome and a bit of ceremonial dancing, we buy crafts—beaded pendants, woven baskets, carved wooden dishware—and taste raw sugar cane.
Kayak the mangroves. Existing before humans, the salt-tolerant coastal vegetation of the sub-tidal zones is its own ecosystem, filtering the salt out of the tree roots. Paddling through the mangroves yields an exquisite sense of peace and an arresting realization that I'm visiting a place few people ever get the chance to visit. We languish in the approaching sunset, drinking in the silence, watching the pelicans dive-bomb for fish in the estuary. No wonder these poor creatures go blind from this daily grind.
Traverse the Panama Canal. Tick.
Find a desert island. On the Atlantic side, we make for the Indigenous province of Guna Yala, a grouping of 360 picture-postcard islands, all white sand, palm trees and thatched roofs. We snorkel, paddleboard, kayak some more, eat, play volleyball and shop for molas, the colourful embroidered tapestries the locals have brought to our island-for-the-day.
When you go. Uncruise Adventures offers seven- and 10-night trips around Colombia and Panama in October, December and January, and July and August. Pack the linen.