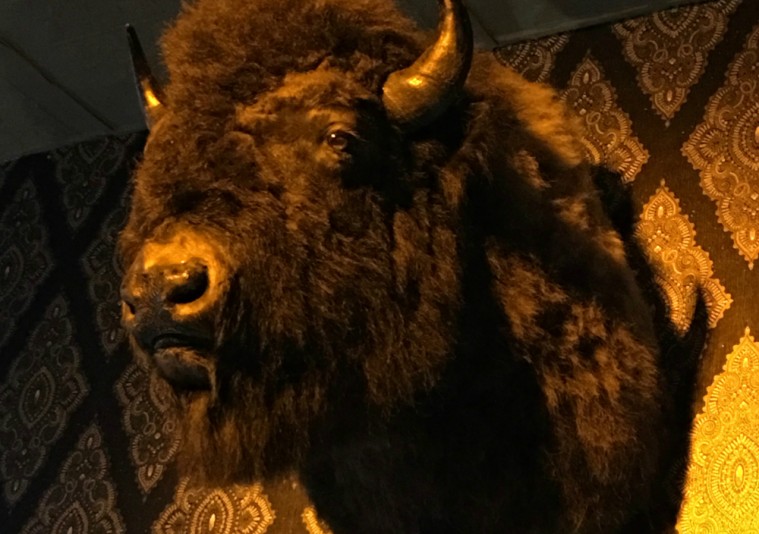 Lucky Day Whiskey Bar, Buffalo, NY. (Doug Wallace)
Buffalo
A road trip to a revitalized Queen City yields warm hospitality, rich heritage, vibrant art and landmark architecture.
My friends all pulled a big face, screwing their noses up as if I smelled. "Why the hell are you going to Buffalo?" Morons. Because it's right around the corner, I told them. Turns out we were on the Peace Bridge in two hours and nine minutes, and well on our way to an excellent weekend away.
A quiet revival is taking place in the Queen City: cool neighbourhoods you could picture yourself living in, old buildings and homes getting a new lease on life, once derelict parts of town now the talk of the town. We also locked into the hospitable vibe from all the nodding; people actually acknowledge your presence—in store lineups, on street corners, bellying up to the bar—like a small town. Turning off the Toronto anonymity is often like a vacation in itself.
Peg a whole day for art. Spin through the Albright Knox Art Gallery in the north end of town to absorb its incredible collection of modern and contemporary art. Follow that with a visit to The Burchfield Penney Art Center across the street, a museum exhibiting works by Western New York artists.
Pay homage to the master. Completely nerd out the restored Frank Lloyd Wright Darwin Martin House. This 1905 home is one of Wright's architectural masterpieces. From the open-concept living areas, crazy talk at the time, to the nature-inspired embellishment of more than 400 art glass windows to the pergola through to the conservatory, now full of orchids, the home is a solid marvel. Wright's legendary controlling nature is on full display in many rooms, especially those with built-in cabinetry—he didn't want anybody moving the furniture around.
Fill your belly. Buffalo is a bubbling-under town on the scope of the national food scene, chefs often returning here having made their name elsewhere. We manage to eat our way through a chophouse, a diner, a whisky bar and a Southern restaurant, before our jaws drop at Las Puertas, the city's much-lauded Mexican restaurant. This 35-seat gem in the West Side, founded by 2018 James Beard-nominated chef Victor Parra Gonzalez, who hails from Acapulco, is thoroughly and distinctly modern Mexican, yet executed with classic French techniques elevating it to top-10 status.
Dance it off. The gay watering holes in Allentown are fun, and mostly old-school, like the town itself. We start off dodging drunk pool players at Cathode Ray on Allen Street, then proceed around the corner to Fugazi, where a slightly younger crowd is throwing back martinis. Gotta love the American free-pour.
Dip south for a side trip. More art and architecture came in the form of a small side trip to the town of East Aurora, a half-hour southeast of Buffalo. Hit the trail to visit Roycroft Campus, a cluster of historic buildings that was once home to a community of Arts & Crafts movement artisans in the early 1900s. Known as Roycrofters, the group began as printers and publishers, expanding under founding father Elbert Hubbard to become a self-sufficient guild of furniture-makers, metalsmiths, leathersmiths and bookbinders. It's a rare survival of an art colony, the story and art kept alive through several restored workshops and an excellent museum.
CURTISS HOTEL
HOTEL HENRY
INNBUFFALO OFF ELMWOOD
THE ROYCROFT INN