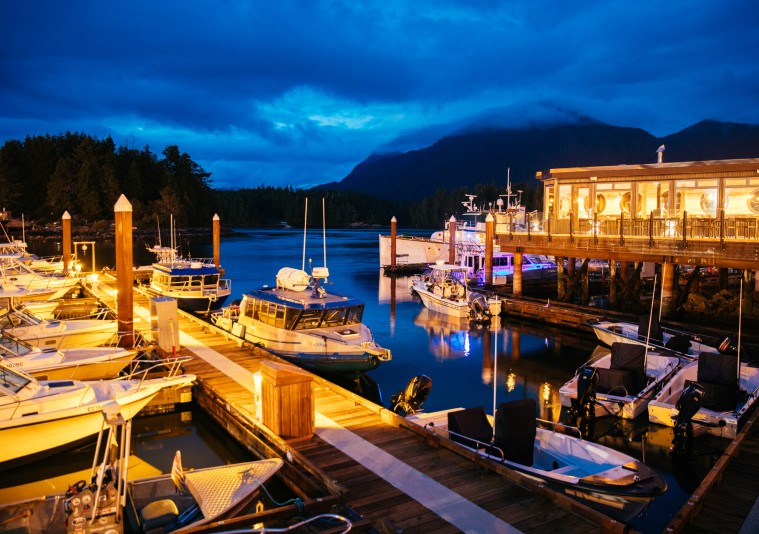 Go surfing, fishing, crabbing, skydiving, hiking or whale-watching. (Jeremy Koreski)
Tofino: Tofino Resort + Marina
The hip home base of this ocean-front community on Vancouver Island's west coast is a full-service, one-stop shop, delivering better-than-basic comfort, fine dining, a lively watering hole, a water taxi, and an ocean adventure centre ready to whisk you away to the region's islands and inlets.
Vibe: Rustic comfort rules at Tofino Resort + Marina, which opened in July 2017. The five main buildings are simple but slick, lots of white and natural wood, with a pared-down Canadiana vibe. This is a rubber-boots-and-jeans kind of playground for any age and any size of wallet. The typical guest is the adventurer who just wants to spend the entire day on the ocean fishing, sight-seeing or surfing, crash right after dinner, and then do it all over again the next day.
Rooms: Frill-seekers need not apply—the focus here is on essentials only, the idea being if it's not useful, it's gone. (Bye-bye throw pillows.) That said, the 63 rooms are comfortable, with simple bathrooms, everything done in black and white and gray. Many of the kitchenettes from a previous incarnation have been turned into a second bedroom. Rooms on the second and third floors sport balconies with plastic Adirondack chairs.
F&B: At the sunny 1909 Kitchen, ingredients are sourced and foraged from Tofino's oceans, shoreline and forests. Wood-fired pizza and fresh seafood rules, complemented by an assortment of small dishes, including wild mushrooms and wood-roasted vegetables. The kitchen will also happily prepare any fish you catch. Breakfast is hearty and healthy, the menu including a BELTCH—bacon, egg, lettuce, tomato and cheddar on a house bun. The rustic Hatch Waterfront Pub is the only bar in town where the locals actually hang out with the tourists.
TASTE TO TRY: TAKE A FOOD TOUR
Extras: The Adventure Centre is a big draw, setting you up with fishing charters, whale- and bear-watching tours, cultural tours and sight-seeing to all the nearby islands, forests and inlets. Go for surf lessons, crabbing excursions, scenic flights, free diving, sky diving or yoga. A water taxi can take you to hike the hilltops or swim in a secluded cove. The marina is the only full-service dock in town, accommodating boats of up to 130 feet. Harbour Air also docks here, its float planes bringing in guests directly from Vancouver Harbour. As the resort co-owners are NHL hockey players, a big state-of-the-art gym is equipped the best of everything and a hit with the locals, too.
Off-Site: Tofino is just north of a magnificent string of surf-worthy beaches and the rugged wonder of the Pacific Rim National Park Reserve, a three-hour drive from Nanaimo, B.C., and a 45-minute flight from Vancouver Harbour. The resort is a five-minute walk to the centre of Tofino, with all its restaurants, surf shops and artisan boutiques. The Tofino-Long Beach Airport is a 20-minute drive south.
Rate: $$