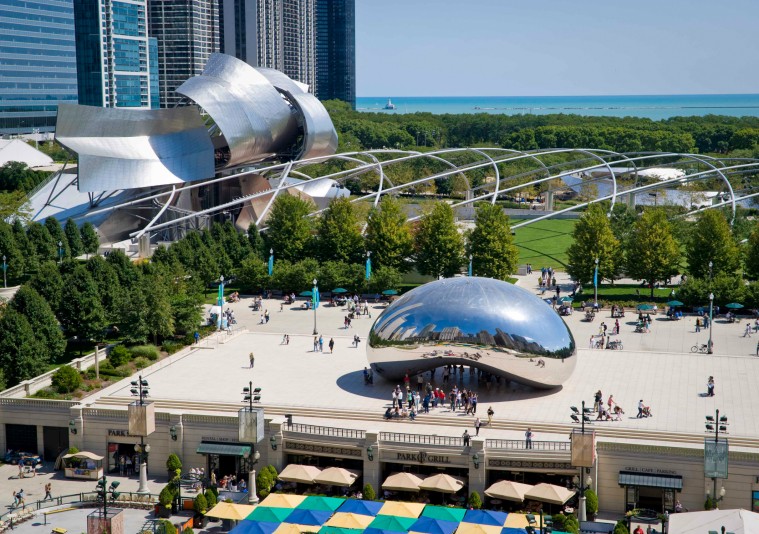 Chicago
More than just deep-dish pizza and hot dogs with no ketchup, Chicago can really tick all the right getaway boxes. Let me count the ways.
There's nothing like a decadent city escape to take you outside of yourself and "unquiet" the mind. Toronto's partnership with Chicago began in the early 1990s, in part because we had a lot in common, both being big, international, cultural hubs propping up a Great Lake. Today, despite the exchange rate, a weekend in Chicago is pretty good value, primarily because the hotel room rates are relatively low, like, often under $200.
Do touristy things. One can never get enough of the Art Institute of Chicago or take too many pictures of one's reflection in Cloud Gate, a.k.a. the "Bean."
Ogle the big buildings. The Architecture River Cruise never gets tired either, mostly because new buildings are joining the skyline here all the time—Chicago invented the skyscraper, after all. The 150 North Riverside building seems to almost defy physics. The Skyscraper Gallery at the Chicago Architecture Center exhibits scale models of famous buildings in Chicago and around the world in a big space overlooking the river-cruise dock. Also terrific fun is the Center's interactive model of the city, which now includes 3,000 buildings, its film and light show highlighting the city's history and distinct neighbourhoods. This is very cool.
WHERE TO STAY: CHICAGO HOTEL ROUNDUP
Hit the 'hoods. Scoping out different parts of town is one of the best ways to get under the skin of Chicago. Once you've combed through downtown, getting lost elsewhere gives you the bigger picture. Neighbourhoods are also quieter, so you actually get some relaxing in sans hustle and bustle. Thankfully, the elevated "L" train system is easy and efficient, albeit deafeningly loud. Try Wicker Park, Bucktown, Ukrainian Village, the West Loop, Pilsen and Andersonville.
Go Italian. Chicago is well-known for its culinary adventures, thick pizzas and ketchupless hotdogs aside. There's a ton of great Italian food, thanks to the town's rich, 100-year Italian history. Eat your way through the menu at Siena Tavern, a cavernous, made-from-scratch kind of place, all rustic and raucous. At Coda di Volpe, you cut your pizza with shears and devour house-made pasta. This neighbourhood spot is up near Wrigley Field, an area reinventing itself, the dingy watering holes being replaced with cool eateries and rib joints springing up amongst the city's dozen or so comedy clubs, also clustered here for some reason.
Drink up. When the sun sets, the Logan Square area is littered with countless bars and clubs, including classic-cocktail bars Pink Squirrel, a bar and bowling alley named after a 1950s drink of the same name, and Spilt Milk, housed in what was once a 1920s apothecary. Seriously, they make it so easy to get into trouble here.
When you go. One thing you have to watch out for in Chicago are the diagonal intersections, where three streets create six corners. Tim headed the wrong way down the wrong street and was more than an hour late for dinner one night. I drank a whole bottle of pink bubbles waiting for him. "Meet you there!" now takes on a whole new shadow of doubt, sadly.