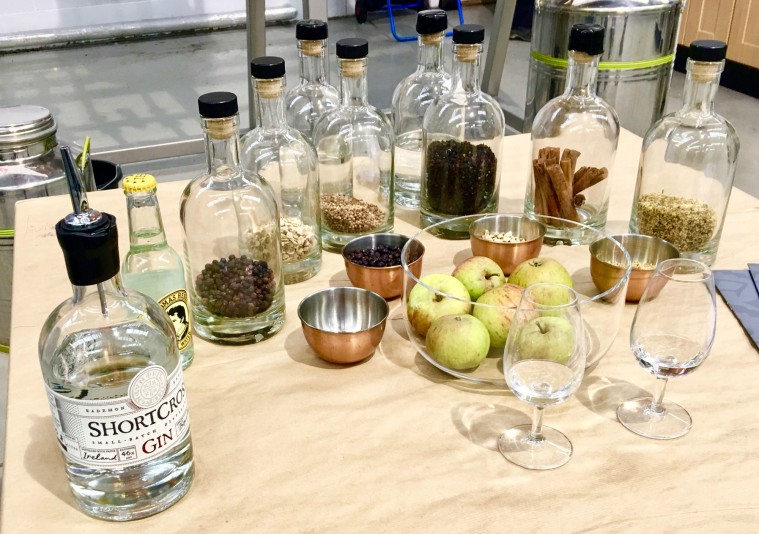 Shortcross tastes of clover from the meadows, elderflowers, elderberries and green apples. (Tim Stewart)
Sweet on Shortcross Gin
CROSSGAR, NORTHERN IRELAND—We take a 30-minute drive from Belfast to a town called Crossgar in County Down—seriously you can't make this quaintness up—then head to its outskirts. When we find a property that we think the GPS is trying to send us, I lean out of the car as far as I can and start ringing doorbells at what turns out to be the gate of the grand Rademon Estate, one of the oldest in Ireland, dating from 1667. I mistakenly ring the house and get the maid, but then manage to connect with someone from the on-site distillery who buzzes us into beautiful grounds, which we tour upon parking the car.
Opened in 2012, Rademon Estate Distillery markets its Shortcross Gin as Northern Ireland's first premium craft gin, a small-scale family operation run by Fiona and David Boyd-Armstrong. Drawing inspiration from the land for the flavours of their award-winning gin, they infuse their spirit with the taste of home—wild clover foraged from the nearby meadows, plus elderflowers, elderberries and green apples. They have their own well that supplies soft, mineral-rich water, one of the finer ingredients for sure.
David walks us through the distillation process, illustrating the local botanicals, murmuring quietly to their shiny bespoke copper pot still. His passion clearly translates into the product. I can really taste the juniper in Shortcross, with coriander creating a solid backbone peppered with notes of orange zest and cinnamon. It is beyond splendid. They pop a tiny bottle of the gin into my pocket, with the disclaimer that it won't make it home to Canada. They are correct.
THINGS TO DO: IN NORTHERN IRELAND
DISCOVERNORTHERNIRELAND.COM