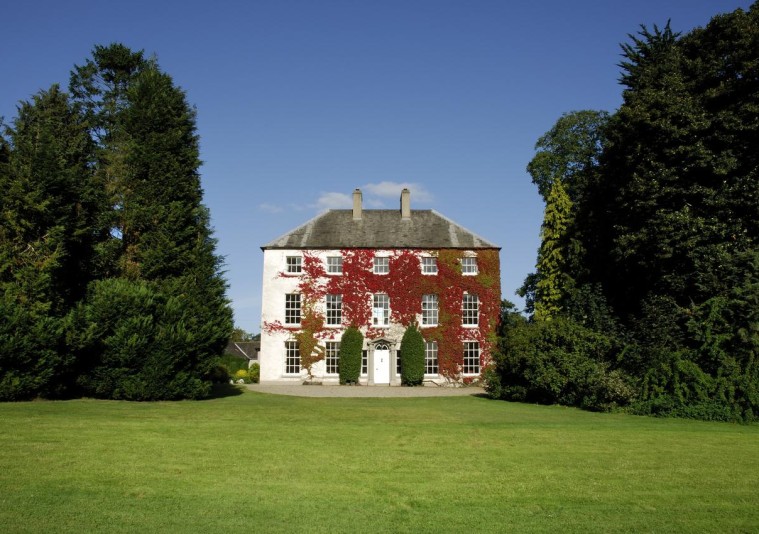 Northern Ireland: Newforge House
The historic Newforge House guest home about a half hour southwest of Belfast on the outskirts of the village of Magheralin is run by owners and chefs John and Louise Mathers. John converted the Georgian family home in 2005, relocating his parents to what his mother refers to as the "pig houses" at the back of the 16-hectare property.
Vibe: This is a small country house done to the nines with perfect service, amazing food and a fire going in the drawing room. The host is beyond charming. While the antiques are extraordinary and the rooms quaint and comfortable, people come here to eat.
Rooms: With just six rooms, you get to know everyone fairly quickly. Rooms are filled with antiques that have been handed down for six generations, surrounded by original features comforted up with modern beds, Egyptian cotton, luxurious bathrooms with marble floors and Wi-Fi. You feel as if you've wandered into a Jane Austen novel, just waiting for someone to call you down to supper.
F&B: The kitchen at Newforge House conjures sweet and savoury delights using local ingredients, including fruit from their orchard and vegetables from the garden. All the meat is raised a stone's throw away and a dozen or so hens come through each morning with fresh eggs. The dining room draws the weekend-away crowd from all over Ireland. We sit down to a feast of roast lamb, fresh fish and incredible cheese, then linger over after-dinner whiskeys by the fire. "Growing our own or using local produce means that we use not only foods in season, when they are at their best, but also varieties that best suit our weather conditions and soil," explains Louise. Dinner is at 8.
THINGS TO DO: IN NORTHERN IRELAND
HOW-TO: DRIVE ON THE LEFT
Extras: The preserves and chutneys are absolutely insane, as is the gin list, which includes gins from around the world plus house-infused gins and vodkas with flavours of raspberries, blackberries, sloes and damsons (a relative of the plum).
Off-Site: Edenmore Golf & Country Club is a five-minute drive away. Ten minutes away, Lurgan Park is the second biggest park in Ireland and its Brownlow House has 365 rooms. Hillsborough Castle & Gardens, where the Royal Family stays when they come to Northern Ireland, is 15 minutes away. Hilden Brewery is the oldest independent brewery in Ireland, just 20 minutes away.
Rate: $$$