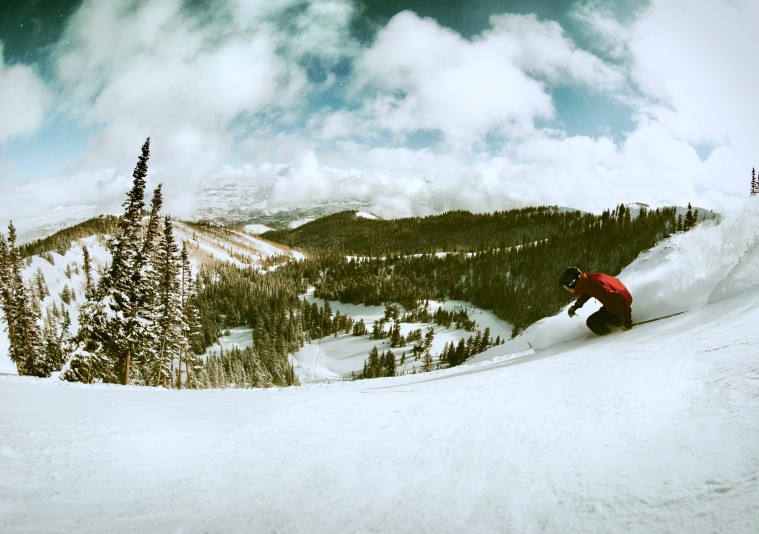 Utah: Park City
Half hour east of Salt Lake City, the town of Park City, population 8,400, is best known as home of Sundance Film Festival. The borough anchors Park City Mountain and the more posh Deer Valley Resort (which doesn't allow snowboarders).
Park City Mountain was purchased by Vail Resorts in 2014 and combined with nearby Canyons Resort, making it the largest lift-accessible ski resort in the United States.
In the late 1860s, silver veins attracted adventurers here from around the world, with silver mining the base of wealth for numerous suddenly rich millionaires, including the father of newspaper publisher William Randolph Hearst. The region has been a snow destination since the 1930s when the shiny stuff ran dry.
Eat breakfast. Go directly to hotcakes at Five5seeds. Do not pass Go.
Ski your heart out. At 3,000 hectares, Park City Mountain bills itself as the Greatest Snow on Earth, with 350 trails, 41 lifts, eight terrain parks, 13 bowls and one super pipe.
Get a facelift. Via G-force! Take a Winter Comet Bobsled ride down the actual bobsled, luge and skeleton track of the 2002 Winter Olympic Games. After donning helmets, we break into groups of three and hop in the back of a truck with our sled for the ride up to the starting line. Thankfully, an experienced pilot takes the helm, and we don't have to run and jump in on-the-fly like real racers, but we do have to hold on. This is why they make you sign a waiver, I think. The 45 seconds feel like an eternity. Sixty-four miles per hour—information that is on my Instagram feed in minutes.
Check out the museums. Also at Utah Olympic Park, spend quality time in the Games museum and in the Alf Engen Ski Museum. I get lost in case after case of black-and-white photos and mid-century memorabilia, and try to imagine what it would be like to do aerials on wooden skis in a V-neck sweater and tie like Stein Eriksen, the father of freestyle skiing.
Ski with a champ. The Deer Valley Resort's Ski With a Champion program lets you ski with an actual Olympian for an afternoon. This is not cheap, but incredibly memorable.
Eat meat. At The Farm restaurant in Canyons Village, the server makes the mistake of putting a platter of local charcuterie right in front of me – heavenly prosciutto, salami, house mustard. Then, I almost wet myself when I discover that my smoked bone marrow entrée comes with oxtail marmalade. We also try the T-bone, which comes with black trumpet mushrooms, roasted radishes and radish chimichurri. At Firewood on Main Street, chef John Murcko and his team cook the entire menu on a custom-cast, 14-foot-long wood-fire grill. It's the kind of kitchen where beef is one of the accompaniments to the steak: American Kobe Bavette comes with beef belly and a garlic sauce.
Pound 'em back. At the Spur Bar and Grill, I make friends with the bear tending bar, only to have him line up shots of something that smells mostly like bourbon, inset into little holes on a wooden ski—a "shotski."
When You Go. Delta and WestJet fly non-stop from Toronto to Salt Lake City in about four and a half hours. Ski season is from late November to early April. Consider a Vail Epic pass. The breadth and variety of accommodation is considerable, so shop around.
PARKCITYMOUNTAIN.COM
EPICPASS.COM
VISITPARKCITY.COM