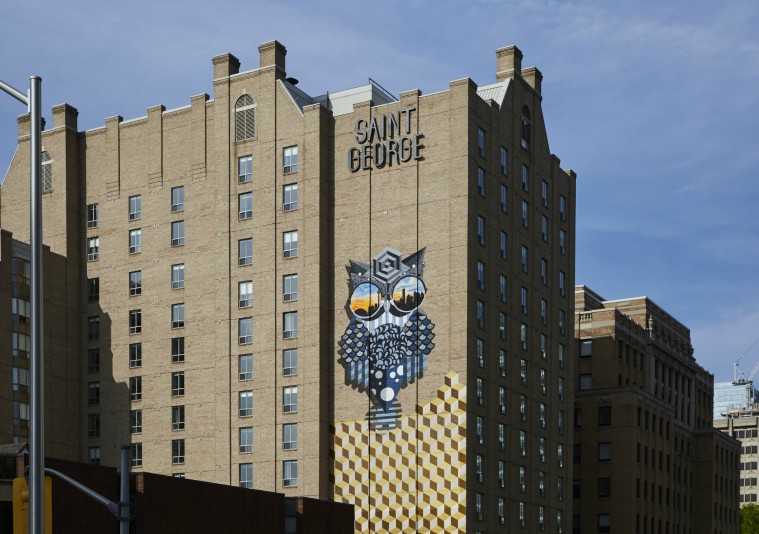 Toronto: Kimpton Saint George
More like a residence than a hotel, the midtown Kimpton Saint George is a melting pot of boutique luxury style. The homey feel flows from the smiley staff to the living room-like lobby and up into spacious, tasteful retreats done in a mix of unconventional colours and distinctive design details.
Vibe: Formerly a Holiday Inn, the Kimpton looks more like a residence than a hotel, full of fun quirks, clever details, and arched doorways, hallways and mirrors uniting the design of the public spaces. A cool shade of blue-green replaces the regular hotel beige. Expect lots of wood, patterned rugs and many other earthy colours and textures, including loads of natural light. A fireplace warms up a cozy and comfortable living room-like lounge off the lobby, a fine spot to settle in with the newspaper.
Rooms: The design of the 188 rooms, including 21 suites, is meant to capture the essence of the Annex neighbourhood's heritage homes, with sculptural furnishings like moulded walnut desks and rounded mirrors, plus gold light fixtures and locally sourced art. The colour palette mimics Canadian nature with a mixture of blues, greens, grays, browns and rusts—practically every shade of a Group of Seven painting. A record player comes with a new selection of Canadian vinyl. White oak armoires feature natural caning at the door faces and a white resin squirrel sculpture inside, a nod to Toronto's famous west end albino squirrel. Frette sheets, robes and towels add a distinct touch of luxury. Grey-tiled bathrooms feature a marble vanity and natural Atelier Bloem amenities. A yoga mat can be found in every closet. The standard room size is 300 square feet.
F&B: The sole restaurant is The Fortunate Fox, a lively, third party-owned gastropub doing breakfast through dinner and on to late-night snacks. An elevated pub menu features all the basics, including fried chicken, a curry, fish and chips, burgers, pizzettes, sandwiches and salads. Everything is made from scratch.
Extras: The Peregrine Room is the main event room on the ground floor with 1,500 square feet of space in total, including a break-out area. Natural materials, natural light, warm tones of peach and gray, locally sourced furniture and cheeky artwork make for a very non-businesslike atmosphere. An airy, state-of-the-art fitness room also sports an adjacent exercise/yoga room. Bicycles are available for those who want to hop on the Bloor Street bike lane right at the front door.
Off-Site: The Kimpton Saint George is right in the middle of town, between the west and east ends, and equidistant from uptown and downtown. Hotel guests can walk to The Royal Ontario Museum and The Gardiner Museum (Canada's national ceramics museum) in under 10 minutes. The famed Bata Shoe Museum is directly across the street.
Rate: $$$