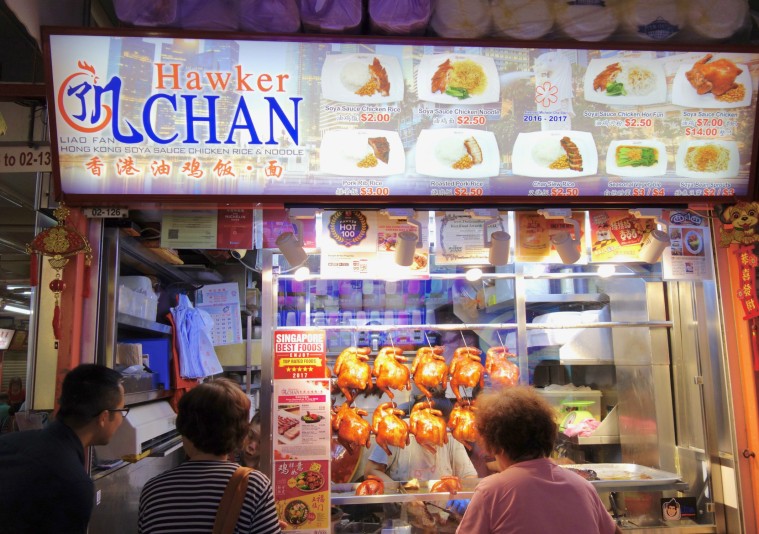 Hawker Chan's Hong Kong Soya Sauce Chicken Rice & Noodle was awarded a Michelin star in 2016. (Doug Wallace)
Chowing down in Singapore
SINGAPORE—There are really no words other than: "spoiled for choice." Singaporeans truly have it easy when it comes to homemade traditional food: You can find it everywhere, it's absolutely incredible and you can have a complete meal for about $3. No wonder nobody has to cook at home!
Singapore is the chameleon of Southeast Asia, its colourful history as a trading settlement still influencing all facets of life, including the local food. The vibrant mix of multiple cultures—Chinese, Indonesian, Indian and Malay—all overlap in the kitchen in delicious ways. Neighbourhood markets all have a food court of sorts, filled with rows of "hawker stalls," little kiosks that produce their own particular specialty. The traditional foods sold here have laid the foundations for a new cuisine movement called Mod Sin (for Modern Singaporean), a twist on Grandma's home cooking. Here are a few of the best-known, most iconic Singaporean dishes to try.
Chee Cheong Fun. Begin your day two or three of these tasty rice noodle rolls, perfect for breakfasting on the go. These are steamed and served alongside soy, hoisin and/or sesame sauces, with roasted sesame seeds on top.
Roti John. Created by Malay who lived in Singapore during colonial times, this excellent street food is essentially an omelette sandwich of minced meat, onions, eggs and chili sauce on a baguette.
HOW-TO: ORDER COFFEE IN SINGAPORE
Carrot Cake. Paradoxically, this is neither carrot nor cake, but also an omelette-style savoury food made with diced turnip and pickled radish. Rice flour and white radish (the "carrot") are mixed and steamed, cut into squares and then fried with garlic and eggs. This is more delicious than it sounds.
Chicken Rice. Half the population of Singapore sits down to a dish of chicken rice every day for lunch—and they will line up for the best stalls, so keep an eye out for lineups and join one.
Chili Crab. Spicy and delicious, a plastic-bib kind of food, chili crab is great to share with a table of fellow travellers and giant bottles of beer on an outdoor patio.
Laksa. A big hug in a bowl, this comforting noodle soup is a Peranakan dish made of wheat noodles or rice vermicelli done up with chicken, shrimp or fish in a spicy curry coconut broth.
Durian Puffs. People hate the unusual smell of this fruit, a combination of rotting onions and sulphur. The puffs are crispy choux pastries stuffed with durian-flavoured whipped cream.
 Pandan Cake. Of Malay origin, the pandan cake is a green chiffon confection, similar to an angle food cake with the hole in the middle. The pandan plant is similar in taste to vanilla.