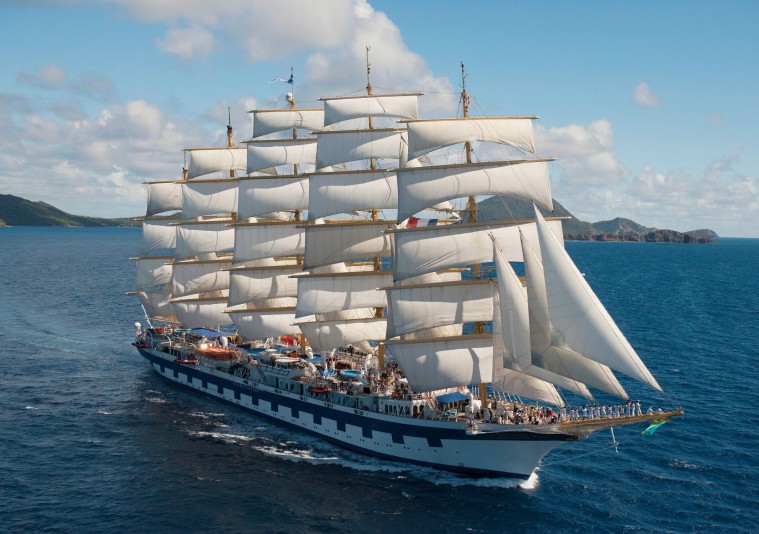 Mediterranean: Tall-Ship Cruise
There's a fine line between cushy cruising and adventurous sailing, and Star Clippers manages to walk this well. This tall-ship cruise company gives modern luxury a heritage twist, taking passengers on true-to-life tall-ship adventures.
Launched in 1991 and based in Monaco, Star Clippers operates three ships—Star Clipper, Star Flyer and Royal Clipper. Just right for sailing enthusiasts, these vessels are the perfect escape, whether you lend a hand with the rigs, climb the mast, or just stare out to sea, awaiting drop-anchor. Speaking of which, researching Star Clippers ports of call thoroughly will help make the most efficient use of your time on land. Here are a few highlights on what to do in the Western Mediterranean and what to bring back.
PALMA DE MALLORCA (SPAIN)
Must-Do: The Cathedral of Santa Maria of Palma—or La Seu—is an imposing Gothic masterpiece dating from 1601. The nearby Royal Palace of La Almudaina was originally a 13th-century Arabian Fort. Both are the centrepieces of a tranquil Old Town dotted with shops, cafés and boutique hotels, and very popular with visitors.
Take-Home: The soil, climate and sea breeze work miracles on Mallorca's centuries-old olive trees, which produce some of the finest extra virgin olive oil in the world.
MAHON, MENORCA (SPAIN)
Must-Do: Wandering is the order of the day here—along the shops of Carrer de ses Moreres and Carrer Hannover, and on through to the restaurants along the waterfront. Wander through the marketplace at Claustre del Carmen, a former convent beside the Carmen Church.
Take-Home: Menorca is famous for its shoe industry—in particular, the traditional leather sandals known as avarcas, an icon of the island. As well, gin has been made here since the British occupation in the 18th century and they have the recipe down pat.
BONIFACIO, CORSICA (FRANCE)
Must-Do: Make the trek up to the Old Town, a maze of narrow streets and medieval five- and six-storey walkups, all encircled by the ancient citadel walls. For a real workout, take the King Aragon Steps down the limestone southern cliff wall. These 187 steps were carved by monks creating a path to and from an underground well.
Take-Home: Corsican honey comes in a variety of strengths and tastes, from the fruity, caramel and cocoa flavours harvested in May to the aromatic, bitter and strawberry varieties gathered in summer and fall.
CALVI, CORSICA (FRANCE)
Must-Do: The port citadel and beach are de rigeur, but try to get out of town and take a winding tour up the nearby mountains to visit the tiny villages of Sant'Antonino, Cobara and Pigna to the northeast. Stop at the nearest fresh-squeezed lemonade café you find.
Take-Home: Napoleon once said he could smell his homeland before he could see it. He was referring to the aromatic plants and trees—cedarwood, cypress, juniper, rosemary, thyme and many more—whose scents fill the air. Essential oil distillers use both wild and cultivated plants to make natural beauty products and perfumes.
TROPEZ, PROVENCE-ALPES-CÔTE D'AZUR (FRANCE)
Must-Do: After you've climbed up to the citadel and before you find the perfect café table at the marina to ogle the millionaire yachts, stop in at the Annonciade Museum, a converted 16th-century chapel. This tiny space is noted for the collection of modern art it has been amassing since 1922, and for championing artists such as Paul Signac, who introduced many painters to St. Tropez on his arrival in 1892.
Take-Home: The while town's famous pastry the Tarte Tropézienne can't be packed in your suitcase, you can buy the cookbook and DIY.