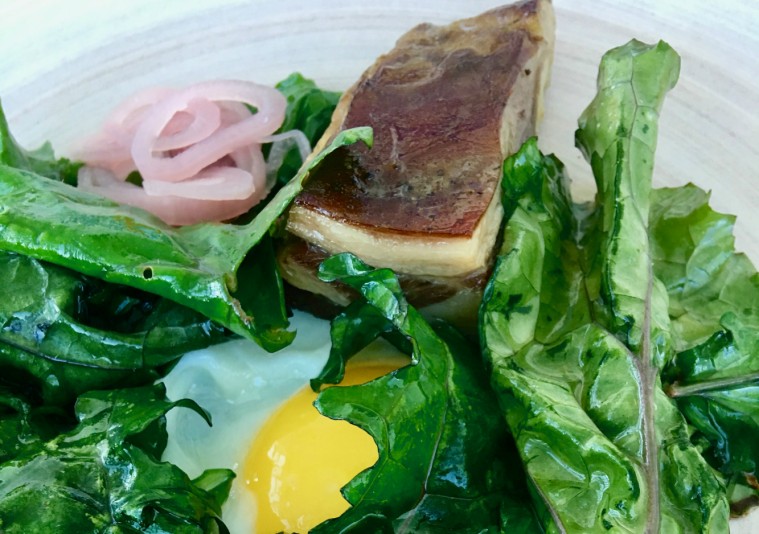 "We try to tell a bit of a story through food," says Chef Jonathan Gushue. (Doug Wallace)
Lamb bacon is a thing
FOGO ISLAND, NL—My mother would have laughed like a fool—I ate turnip greens for breakfast. To be more specific: braised turnip greens, lamb belly, black garlic and a fried egg. This at the stunning Fogo Island Inn, Newfoundland and Labrador. We're spending three glorious days wandering over the rocks, hiking the trails, hot-tubbing on the roof, watching for whales, listening to stories—and eating.
Chef Jonathan Gushue, a returning Newfoundlander, tells a very eloquent food story. "We're trying to take traditions and interpret how they would look in a contemporary setting," he says. "We build on how people aged meat, how they dried fish, how they made sandwiches—throwing small salted fish pieces into a wood stove, then putting them on molasses buns with partridge berry jam and some aged cheddar."
The same thrill comes with suppertime. Root vegetables are popular (because they can be cellared), as are all manner of wild mushrooms, greens and berries—and cod cooked in every way possible. Guests tuck into pickled scallops with rhubarb and sweet cicely; poached halibut with smoked tomatoes and lobster cream. Things like moose tartare, salt-water lamb and roast duck thrill the carnivores, while squash dumplings and heirloom beets satisfy the vegetarians.
"We focus on flavours like a little view to the past, a taste of the past."
The lamb bacon is incredible and so is the salt beef sandwich I mow down at luncheon. Now if I could only learn how to cure a moose…
TASTE TO TRY: COD SOUNDS
WHERE TO STAY: IN ST. JOHN'S
NEWFOUNDLANDANDLABRADOR.COM