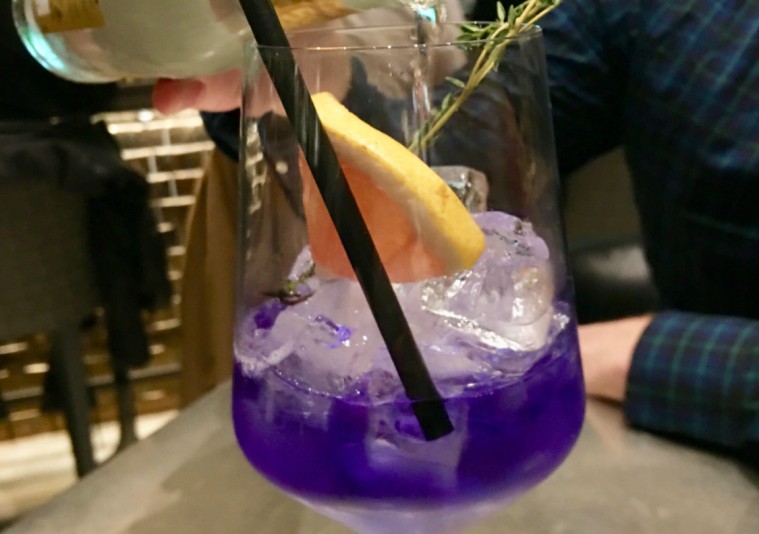 Empress 1908 Gin is blue, but not for long. (Doug Wallace)
This gin does tricks
VICTORIA—Empress 1908, one of my favourite gins, is blue. It's actually purple, but really, it starts off blue. Confused yet?
Made by Victoria Distillers for the Fairmont Empress Hotel, Empress 1908 Gin is infused with the now-trending butterfly pea blossom, a perennial herbaceous plant, native to Asia. The petals lends both a distinctly blue hue and an earthy tinge to the gin, like you're having a drink in the garden (like you do). But the real fun is that the gin turns purple when it comes in contact with anything acidic, so both citrus and the quinine in tonic water alter the pH level. Ta-da! An instant bartender parlour trick.
The backstory gets even better. The butterfly pea's plant name is Clitoria ternatea—yes, because it looks like a clitoris. (The irony here is not lost on me, believe you me.)
Named after the grande olde dame and the year she opened, Empress 1908 is micro-distilled in copper-pot stills using eight botanicals—the pea blossom, the hotel's signature tea, juniper, grapefruit peel, coriander seed, cinnamon bark, rose petal and ginger root. The result is elegant, slightly exotic and definitely not shy.
This is a shot of a most recent Empress 1908 tasting at the award-winning Notch8 in the Fairmont Hotel Vancouver, a grande dame in her own right.