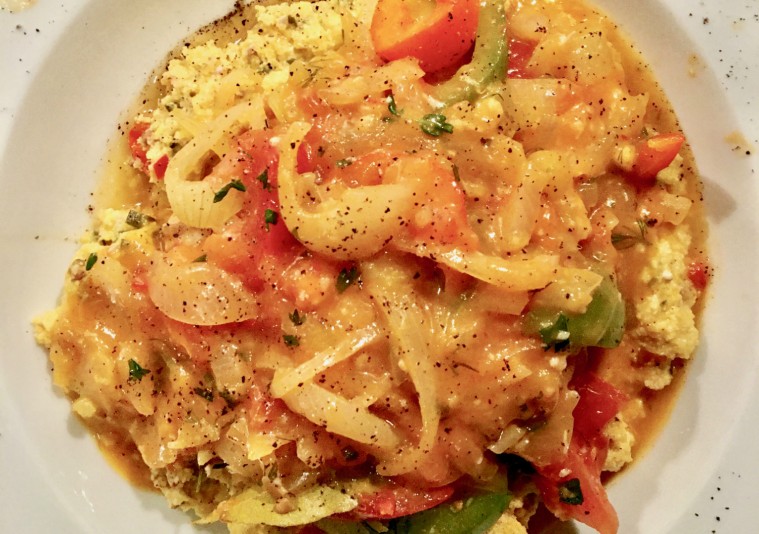 You make cou-cou and guess what? Polenta forearms like Popeye. (Doug Wallace)
Not cuckoo for making cou-cou
BARBADOS—I made a pact with myself recently to do more recipe-following and cookbook-reading. And when my culinary masterpieces overlap with a travel angle, I post them on Instagram, one of the more successful being this cou-cou and flying fish, the traditional dish of Barbados. It's an okra-cornmeal concoction. OK, so I used haddock, and apparently sea bass is a better substitute, but it was awesome.
I first tried cou-cou at Lemon Arbor Village Bar in St. John parish in Barbados. Lunch there included all kinds of traditional foods and the takeout window of this place was on fire it was so busy. I was on a food tour through the countryside with Chef Michael Harrison, who walked us through Cheapside Market, the Bridgetown Fish Market (complete with drunk fisherman giving drunk tours of their boats), Village Bar and lastly Country View Bar. It was like a little pub crawl with food lore mixed in—my two favourite things.
Here is a recipe from Barbados.org.
1. In a bowl, combine 8 oz. of cornmeal with enough water to cover the meal. Set aside. 2. Cut the tops and bottoms off 3 oz. of okras and slice into rings. Place the sliced okras in a saucepan with water, one medium-sized chopped onion and salt. Bring to a medium boil for a few minutes until the okras soften. 3. Strain the okras into a bowl, setting aside the liquid.  4. Add about a quarter of the okra liquid back into the saucepan and add the soaked cornmeal. You'll need a whisk or wooden stick to stir the cou-cou as it cooks. In Barbados, they use a flat wooden spoon known as a cou-cou stick. Stir constantly.  5. Add more of the okra liquid gradually. You can tell you're nearly finished when the cou cou starts to bubble gently at the surface. At this point add in the cooked okra slices and continue stirring for another two minutes.  6. Remove from the heat and stir in 3 tbsp. of butter.