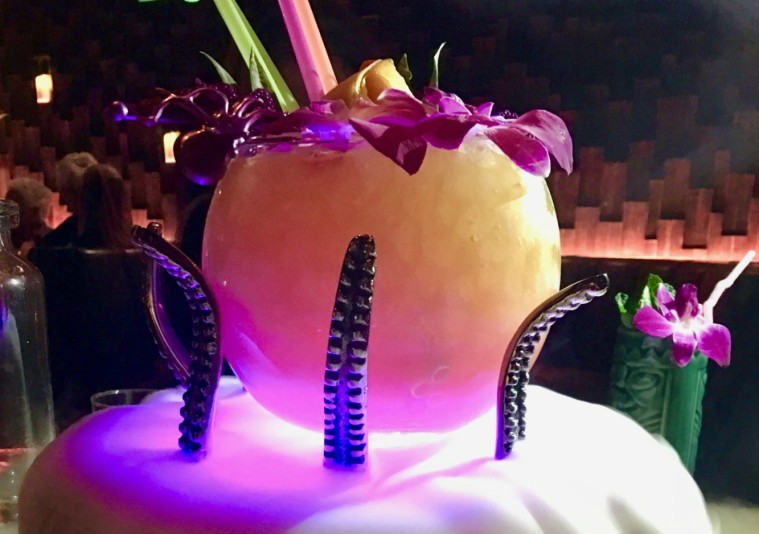 The four-straw Bali Bali at Chicago's Three Dots and a Dash. (Doug Wallace)
Tiki Bar packed to the tits
CHICAGO—Trader Vic invented the Mai Tai, you know. True story. I'll always remember throwing back Suffering Bastards at the now-gone tiki bar Trader Vic's in the basement of the Toronto Hilton, long after the Polynesian culture fad of the 1950s and '60s had dissipated. It was a bourbon, gin and ginger ale hangover cure, supposedly.
So when my friend Ryan suggests a tiki bar in downtown Chicago, I'm in.
When we finally find the door to the place, in a River North alley east of Clark Street lit by—what else—tiki torches, Three Dots and a Dash is packed to the tits, and it's barely 6 p.m. And it's Sunday.
This speakeasy-style traditional take on the tiki bar comes complete with low lighting, massive menus, cheeky ceramic glasses, top-notch rum and house-made elixirs. Cocktail classics are rooted in the past—the Tropical Itch, the Strip and Go Naked, the Pinky Gonzales (created by my friend Trader Vic in 1964) and the original Three Dots and a Dash cocktail invented by Trader Vic's rival Don the Beachcomber in the late 1940s. Tiki bar trivia!
We settle on a group cocktail, the US$85 Bali Bali, a giant concoction of tropical fruit juices, rum, Armanac and gin. It looks like a sea monster overflowing with liquid nitrogen. It's fine, meaning I don't hate it and it goes right to our heads. My bar is low at the tiki bar.
Cocktail hour is rarely something to write home about, but we have our moments.