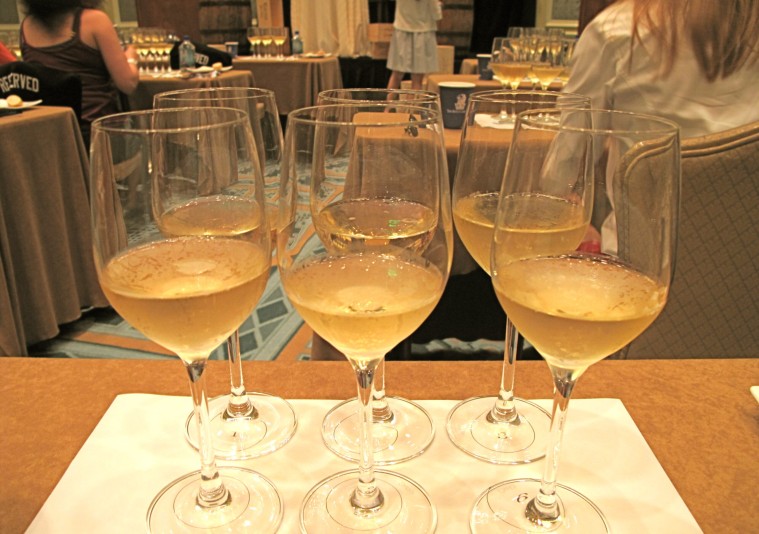 "There's a distinct association of Champagne with celebration which is hard to escape." (Doug Wallace)
I have Champagne tastes
GRAND CAYMAN ISLAND—In the grand scheme of analogies, I'm one of those people whose glass is always half full. And quite often, it's half full of Champagne. I like to think I can will good things to happen to me. Surely this was why I was seated in the Grand Ballroom of the Ritz-Carlton Grand Cayman in front of six of the best glasses of Champagne I'm ever likely to have all at once.
Part of the annual Cayman Cookout, a three-day food and wine festival hosted by chef Eric Ripert, this blind "Royals of Champagne" tasting focused on the tête de cuvée, the best wines these Champagne houses make.
Sommelier Ray Isle, executive wine editor at Food & Wine magazine and a James Beard Award nominee, led my 10 a.m. session. Isle feels that most people don't realize how complex Champagne can be, and how great it can be at the dinner table. "Champagne is underrated as a food wine. People tend to think of it purely as an aperitif or party wine," says Isle. "In fact, it pairs extremely well with all sorts of food— and there's such a broad range of styles: with sashimi, for instance, you might want a crisp blanc de blancs or zero-dosage bottling; with meat you could turn to a rich rosé Champagne."
CHAMPAGNE TASTING NOTES
Perrier-Jouët Belle Epoque 1999
Impressions: Yeasty, red apple, earthy, soft, not acidic
Factoids: The company founded in 1811, and released a dry Champagne in 1854. The bottle art is based on a bottle from 1902 that was found in an old cupboard. These Champagnes tend to be broader and softer, and they make a nice rosé.
Dom Pérignon 2000
Impressions: Not very bubbly, pear, higher acidity, citrus, floral, long finish
Factoids: Until the cage was invented by Pérignon to keep the corks in place, Champagne was known as the "wine of the devil," because bottles would explode in the cellars, often causing a chain reaction, ruining half the wine. Vintners wore iron masks to protect their heads from flying corks.
Salon Blanc de Blancs le Mesnil-Sur-Oger 1997
Impressions: Fierce acidity, powerful, complex and fresh underneath
Factoids: This company started in 1905, the Champagne originally made just for friends, who then insisted the winemaker start selling it. Only 30 vintages since 1921. Made with 100% Chardonnay grapes.
Krug Grande Cuvée
Impressions: Sweet apple, rich, high percentage of pinot noir, less earthy or yeasty
Quote of the Day: "My palate tends toward richer-style Champagnes," said Isle. "And in that realm, I think Krug is inarguably great—like a $200 teddy bear."
Veuve Clicquot la Grande Dame 1998
Impressions: Apricot, apple, yeasty, earthiness, crisp, round and deep
Factoids: Mysteriously known as the "yellow label," despite the fact that it is clearly orange. The widow Clicquot took over the business in 1805 when her husband died unexpectedly, and thanks to her, we have clear Champagne. A pinot-noir driven house, it releases a vintage every couple of years.
Armand de Brignac "Ace of Spaces" Brut Gold
Impressions: Dense, tense, earthy with floral hits
Factoid: "This one appeared in a Jay-Z video—always a good way of determining a good Champagne," Isle said with a laugh.
FYI Dryness chart
Extra Brut, Brut Sauvage, Ultra Brut, Brut Integral, Brut Zero—super dry
Brut—dry
Extra Dry, Extra Sec—bordering on sweet
Sec—kind of sweet
Demi-Sec—definitely sweet
Doux—"pretty darned sweet"