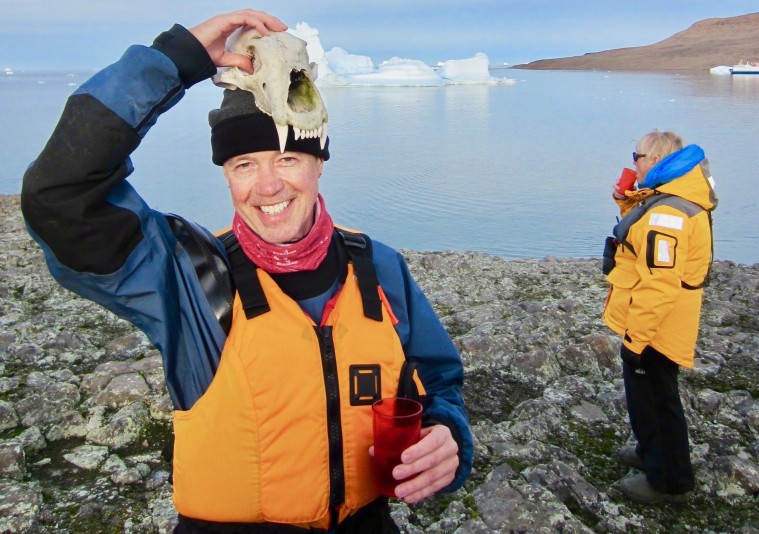 Not feeding the bears, just drinking rye in Viking Bay, East Greenland.
Greenland
Kayaking through East Greenland's Scoresby Sound, the largest fjord system in the world, offers up pure Arctic adventure—glacial bays, calving icebergs, muskox and more.
From the tiny airport of Nerlerit Inaat, a.k.a. Constable Point, we walk to a flotilla of Zodiac boats that sweeps us out to the Ocean Nova, and a Quark Expeditions East Greenland cruise.
Arctic expedition travel is the ultimate adventure, an experience more than a vacation, one you can barely believe is real at points. It has a special beauty—a scale and ruggedness to it—that is addictive.
Take to the kayak. The variety of kayaking conditions in the different bays and fjords of East Greenland and the experiences that go with them is amazing: hugging a rocky shoreline one day, digging through ice the next, paddling past glacial faces and blue icebergs, bobbing along in "bergy bits," mist, fog, sunshine, seals swimming under the canoe, the works.
One afternoon in Flyer Fjord, a veritable iceberg graveyard, we have to kayak single file through the ice, crunching and cracking, getting stuck, getting free, getting stuck again. We stop in open water for a few minutes to take it all in, bergs calving like thunderclaps, no wind, no birds, no fog, just us. The next day hugging the shore of Little Island, the bay is chocka-block with brash ice, like we are floating in a giant cocktail.
Spot the oxen. Before an afternoon paddle in Eskimo Bay while we are still in the Zodiac, we suddenly spot two muskoxen in full gallop quite close to shore. They stop abruptly when they see us; one retreating while the other stares for several minutes before trotting off. It's a moment that takes a while to sink in—what just happened?
Roam the ruins. Following sessions in the water, we often catch up with the rest of the passengers, taking a short hike to get the lay of the land, careful to stay behind the rifle—this is polar bear country, after all. On a few occasions, we wander through untouched ruins of Indigenous settlements, used by more than one different culture over the centuries. We find hand tools made out of bone and actual human graves. Meat caches are made evident by small piles of lichen-covered stones; decades-old wooden fox traps still sit atop hillside rocks.
Look at the lights. After midnight, the call goes out that we're making a night landing. Our Zodiac heads right for the red light on the shoreline, to find that the perimeter of our viewing area is ringed with—glow sticks. People set up their photo gear or stake out their spots in the deep grass, barely visible despite our bright yellow parkas. And then the show starts. The Northern Lights dance across the sky in kaleidoscope of colour for more than a half hour. I almost drift off, my nose tucked into my jacket, almost forgetting to watch.
Break new ice. The Ocean Nova captain impresses even himself with an incredible sail through uncharted waters into ice-filled Goose Fjord, home of the Magga Dan Glacier. The ice cracks and calves, falling into the bay in slow motion. The crew is incredibly excited to get so close to the glacier given the amount of ice in the fjord. This is the kind of thing that turns a trip into an expedition: taking what you're faced with, and running with it.
Keep an eye out. A polar bear is spotted on the morning of our last full day of East Greenland adventure, in Viking Bay, making everyone eager for more of the same. We kayak down the quiet coastline before landing on a small island made out of octagonal basalt columns, where we join the other passengers for a chat on the rocks and one very large group shot. My gloves are wet and my hands cold, but they warm up considerably when the Irish whisky comes out. The only bear I see is a sun-bleached bear scull, but he looks good in my pictures all the same.
When You Go. Quark Expeditions has a few different itineraries that take you into the fjords of East Greenland, with departures in August and September. Kayak groups paddle multiple times per voyage, weather permitting. Visit QuarkExpeditions.com.