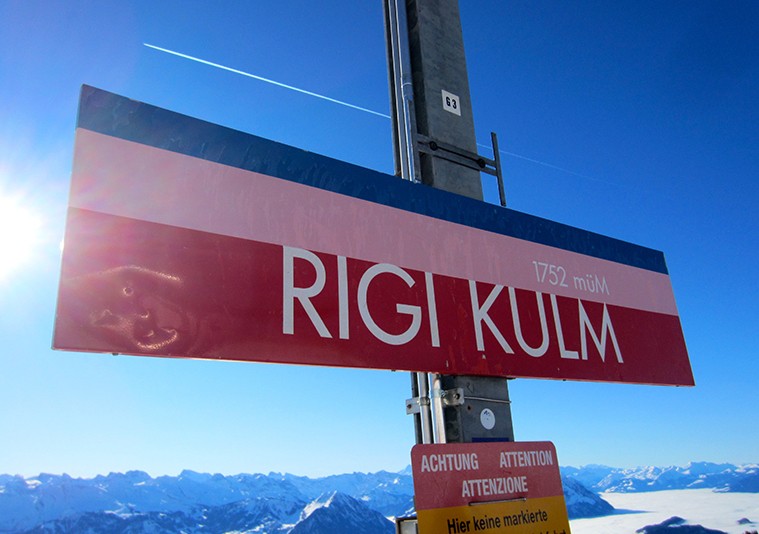 The sun above and the clouds below—the Alps put you closer to god! (Doug Wallace)
Switzerland: Mount Rigi
What happens in Weggis—well, you should actually share it with everyone. This little town just a short jaunt across the river from Lucerne is a springboard to your down-time up where the air is fresh and clean: Mount Rigi.
Take a break. Mere steps from the ferry dock is the Post Hotel Weggis, a great spot to get over the Lucerne weekend. Making full use of punchy colours and high-octane art, the "PoHo" is a touch of glam in this little seaside burb. Rooms are rich with textures, patterns and decadence. Take time to chill at the cozy spa after a dip in the illuminated pool. Make a point to duck into Weggiser Stübli, a smaller adjunct restaurant that is a rustic step back in time, with portraits of the town's forefathers lining oak-panelled walls.
Get high. To say the gondola ride from Weggis up Mount Rigi is a complete thrill would be a gross understatement. This 1,800-metre mountain in the pre-Alps is enjoying a resurgence of its former status as a health-oriented spa playground. The 90-square-kilometre car-free recreational region has been known for its healing waters since the 16th century, when people would make the pilgrimage to the village of Rigi Kaltbad (literally "cold bath") to take the waters and be inspired by a spectacular view.
Channel Twain. Queen Victoria, Goethe, Mark Twain and artist J.M.W. Turner were all fans of Rigi, the latter painting it several times, many of which hang in London's Tate Gallery. Twain ambled up the mountain (and really took his time, according to local legend) as part of a tour for his book A Tramp Abroad, published in 1880. In the 1940s and '50s, the mountain was the spot to spend the weekend—or longer—skiing, sledding, hiking and relaxing in the quaint chalets and small hotels.
Bathe regularly. Leading the revival of the wellness tradition of the area is Rigi Kaltbad Mineral Baths & Spa. Designed by Swiss architect Mario Botta, it is built into the mountain underneath a village square, and features indoor and outdoor pools, mineral water couches, neck showers, herbal steam baths and more. The spa has a tempting index of treatments and everything is connected via tunnel to the 50-room Hotel Rigi Kaltbad.
Keep going. Don't stop now! Head to the very top of the mountain via cable car to Rigi Kulm, the highest peak of the mountain. The cogwheel railway was installed in 1871, the first of its kind. Sledding (if your tailbone can handle it), skiing and hiking are all part of the day's activity sched. Check into the Rigi Kulm Hotel, even for just one night. People make this pilgrimage particularly for the sunrise, winter and summer, a sight that will be etched into your memory for a long time.