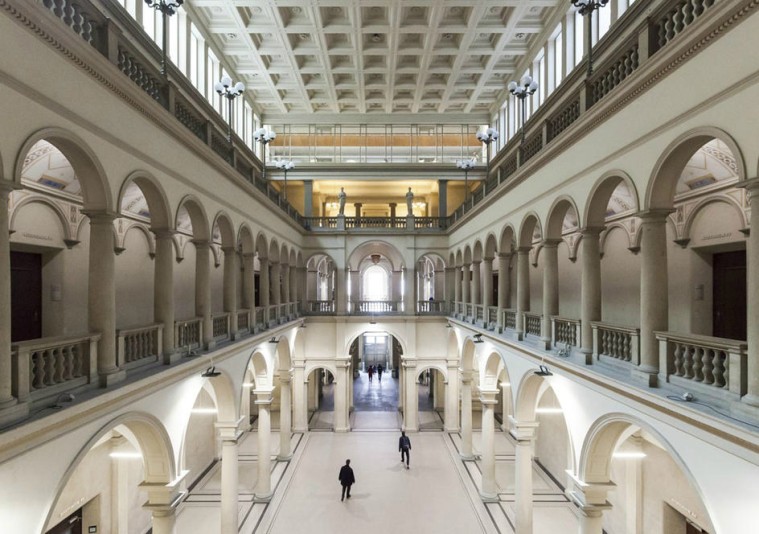 The main building of the ETH Federal Institute of Technology. (Discover Zurich)
Switzerland: Zurich
Zurich is many things, but stiff certainly isn't one of them, contrary to its reputation—and lucky for you. An international meeting place with four official languages (none of them English), the city is captivating mix of cultures, cuisine and attitudes.
Save and splurge. I remember arriving in Zurich first thing in the morning via a train from the airport, when rush hour was in full swing. I got a coffee and paid in cash, making a mental note to check the exchange rate so I could "feel" what I'm spending. Well, that little cup of black coffee was $6. So, the advice is: save where you can. My hotel advice is Hotel Platzhirsch which translates to The Leading Stag, a Swiss equivalent to top dog. It has a great central location so you also save money on cabs.
Shop. This is the splurge part! With luxury mecca The Bahnhofstrasse being the third most expensive shopping street in the world (everything from H&M to Hermès), your credit card will likely see plenty of action. And don't forget to load up on chocolate for your suitcase or your belly, whichever comes first.
Geek out on design. If you can tear yourself away from the shops for one second, get lost in the variety of visual candy at Museum für Gestaltung, which focuses on design, visual communication, graphic design and architecture.
Get your gay on. For a start, Zurich Mayor Corine Maunch is homosexual, so away we go. The city is known as the first real hotbed of gay activism, beginning with Der Kreis (The Circle), the first real gay and lesbian network in the world that began meeting in the 1930s. Not surprising, then, that the first gay bar in Europe is here—Bar Barfüsser, now known almost as well for the sustainable sushi restaurant within it. Snappy cocktails can be found at Cranberry: loud, lively and a little saucy. Zurich Pride is in June.
Melt. Just a bit west of centre is hot mineral springs Thermalbad & Spa Zurich, constructed around 100-year-old stone in the vaults of an old brewery. Afterward, relax in the open-air rooftop pool with the city laid out at your wrinkling feet.
Go west. Zurich West is a business and entertainment zone created from the shells of old industrial buildings, a transformed and trendy end of town flooded with 30somethings on the weekend. Renoed old warehouses, such as the Schiffbau, have new lives as theatres, nightclubs, restaurants, shops and markets, including the stores of supercool Im Viaduct built underneath the tracks and the stylish Lasalle Restaurant and Bar. This is also where to find the fun flagship of Freitag, purveyors of recycled-tarp messenger bags and wallets.
Bunk here. If you choose to hang your hat out here, go with the elegant Renaissance Zürich Tower Hotel, rich with dark wood floors and sumptuous colours. It is walking distance from Hardbrücke Station, which has express trains to the airport.