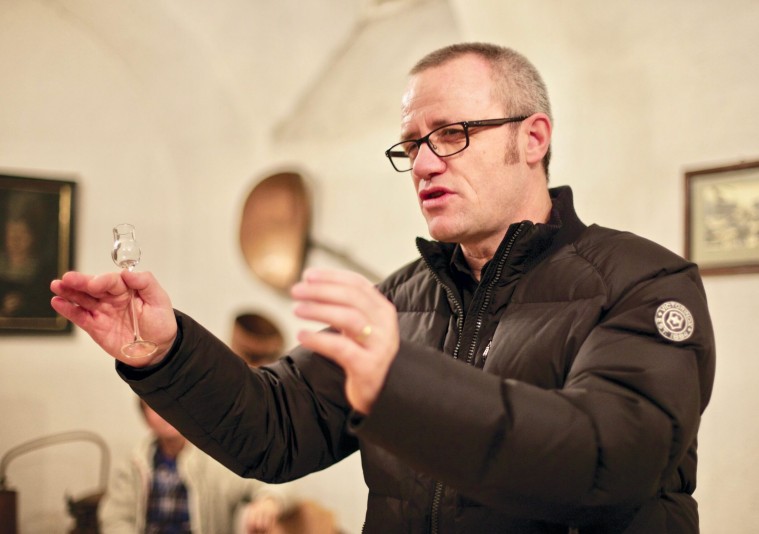 Lucas Fassbind demonstrates the love that goes into the teeny tiny glasses. (Boje Ploeg)
The kiss of kirsch
OBERARTH, SWITZERLAND—Kirsch is my new best friend. Lucas Fassbind, also my new best friend, sums up his very special schnapps like so: "Cooling, warming, burning, contracting, silky, round." At Fassbind Distillery in Oberarth, his family has been making this cherry brandy for about 175 years on the same premises.
Kirsch is a double-distilled brandy with a subtle cherry flavour mixed with a slightly bitter cherry-pit undertone (the cherries are fermented, pits and all). Also referred to as kirschwasser, it is similar to grappa in its bitterness.
Fermentation begins after the summer fruit is harvested, spanning six to eight weeks, with distillation taking over October through December. There are about five kilograms of cherries in every bottle of kirsch. Interestingly, female cherries are meant for eating, with strictly male cherries used to make brandy.
Nineteen generations later, Lucas is the spokesperson for the brand and his ancestor Gottfried I (that's the First) is featured on all the labels. They have a range of fruit spirits that run the taste-bud gamut. Considering the record for spitting a cherry pit in Switzerland is 26 metres, these people should know what they're doing.
Look for Fassbind spirits in stores across Europe.